This post may contain affiliate links, which means I'll receive a commission if you purchase through my links, at no extra cost to you. Please read my full disclosure for more information.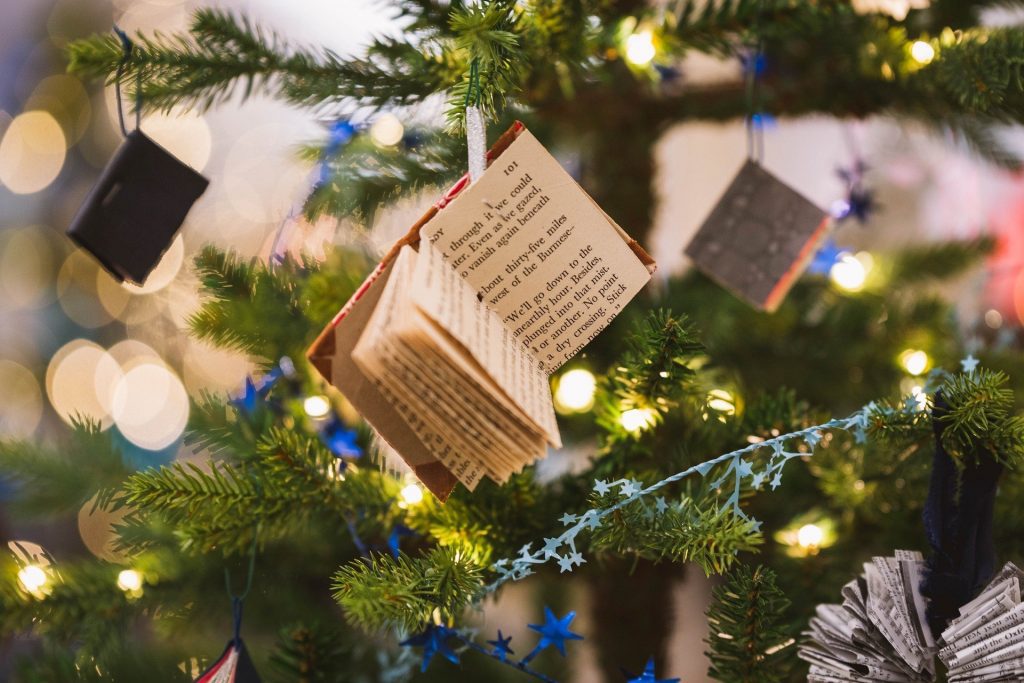 I have compiled a list of 20 of the best Christmas gifts for readers. As a reader myself, I have gifted these gifts to other readers and have had some of these gifts gifted to me during the holiday season. These bookish gifts will enhance enjoyment and relaxation to the readers in your life!
---
1. Floating book shelves
For book lovers and collectors, floating shelves are an amazing, affordable, and practical gift. Ranging anywhere between 20-60$ depending on the design and brand. I was gifted a set of three floating book shelves a few Christmases ago, and now, they host my most prized collections such as my writing books, Shakespeare collection, and book series I want to finish immediately.
Plus, they make great gifts for people who don't have enough full wall space to set their book collections (also my case.)
2. Book stack ornament
A book stack ornament is an endearing little gift that could fit greatly as a stocking stuffer or as a supplementary gift in a bookish care package. It is also more of a personalized Christmas gift for booklovers.
3. Kindle Paperwhite
The Kindle Paperwhite is the perfect e-reader for avid readers. 
It is an affordable and thoughtful gift. Depending on how much storage memory you purchase, the Kindle Paperwhite is waterproof and a reasonable price in my opinion.
Furthermore, there are many people that dislike the heavy feel and inconvenience of carrying physical books. I personally use my e-reader for very heavy and long books. I rather read them digitally. The Kindle Paperwhite is so light too.
Plus, e-readers are amazing for nighttime reading before bed as well as for travel. It's a gift for a lifetime.
4. Reading socks
Reading socks are the absolute best. They're so cozy and warm for reading relaxation. I use my pairs for every season when I know I am about to spend a cozy night in reading. There gives so many textures and designs. I always rejoice when I get a new pair because they're so fuzzy and more of a speciality like socks.
5. Printed socks
If reading socks are not the right fit for the person you are shopping for, you can give them reading printed socks instead. There are also many graphics for this type of socks. You can get something specific to the book or author they love or just a reading graphic itself. These make perfect stocking stuffers or supplementary gifts.
6. Coloring book of their favorite book
There are so many colouring books out there: for adults and children alike. I have gifted 'Harry Potter' coloring book as well as an 'Outlander' one and an 'Anna Karenina' related one as well. It all depends on the person's favourite rite book or book series. It's a great activity to do while listening to Audiobooks.
7. Printed bookish t-shirt
Once again, you can gift your reader a printed t-shirt of their favorite book or author. Or a general reading printed shirt.
8. Bookish wall print
I love bookish wall prints. I also love having my favourite quotes hung up in a wall print such as Hemingways' "Write Drunk; Edit Sober."
9. Bookish coffee or tea mug
There are so many bookish mugs and I want them all. I mean… I already have maybe over a dozen sitting on my bookshelves… no more bookish mug collecting for me. But, it is a fitting gift because I drink so much coffee and tea while I'm reading.
10. Bookends set
Bookends set can be a bit more pricer but they are definitely worth it. There are rustic looking ones. There are so many kinds of bookends. They are perfect for decor and for holding up a book collection.
Additionally, there are the Acrimet book ends that are quite cheaper and more simplistic. There are many colors for the Acrimet metallic simple book ends!
11. "Tequila Mockingbird" book
The "Tequila Mockingbird" is an outrageously fun gift for readers. The literary references – and puns – mixed with the alcoholic drink ideas is a bestseller. I was gifted this year a few years back and I still use it with my friends from university while discussing the classical books associated.
12. Bookish pillow case & throw blanket
A reader's room is most likely than not a room decked out with bookish items. Throw blankets and bookish pillows are no exception!
Throw blankets make for the best comforter during reading on the couch or bed or chair. There gives bookish ones but for me it is more about comfort when in comes to blankets.
However, for my pillows; I want all the bookish pillow cases.
13. Bathtub caddy tray
Yes, us readers still use these bathtub caddy trays in case you were wondering. It's not an invention solely for the 2012 Tumblr indie aesthetics. Us readers still take baths and decompress reading physical or digital books along with a glass of wine!
14. Book mark anchor
The bookmark anchor is the perfect gift for readers of big books. Readers put their metallic bookmark anchor in and their big floppy books stay open while they are reading. It is a really practical gift, especially when lying in bed reading because you can rest your arms from all that heavy book holding.
15. Bookish postcards
Literary themed postcards are the best gifts for book lovers and readers because they can send cards to their loved ones and inspire them to pick up the book that is featured on the postcard. Or they can use the postcards as a mini wall prints. (Yes I am guilty of this.)
Two of my absolute favorite are Penguin postcards and Obvious State postcards.
16. "My Ideal Bookshelf" book
"My Ideal Bookshelf" is another great book for book lovers. This book will definitely inspire readers to read more and to pick up books from new to classic authors and favorites.
Accompanied with illustrations, this book surveys the shelves from well known writers, artists, cooks, filmmakers, etc.
As an avid reader myself, I always want to know what others are reading.
17. Bookish scented candle
In all honesty, scented candles should be a staple in every care package for readers and non-readers. Candles bring about that relaxing atmosphere. They bring warmth, light, and good scent. And yes, there are bookish scented candles. Are you even surprised at this point?
18. Clip-on book light
A book light might not seem too obvious as a gift to a reader but I need to give my little opinion piece…
There is nothing I hate more than getting out of bed after reading a physical book just to turn off the lights in my room. By the time I get out of the comfort and warmth of my bed and switch off the lights, I am wide awake and would want to read more in order to be able to fall asleep.
Having said that, having a clip on book light solves that problem. I can clip the book light to my bed or to my physical book and get on with my reading without the dread of having to leave the bed for the night. It sounds like a small problem to have but sometimes when I'm really into the book and/or I don't have its digital version, I prefer the book light method way of reading.
19. Bookish canvas tote bag
I think tote bags are practical to begin with. They're perfect to carry books around when going on trips; small trips, big trips, day trips, etc.
As a book lover, I always carry a tote bag anywhere I go. My books deserve a separate tote bag. Hence, the reason why I also have a dozen tote bags. It's just such a great gift even if the gift is from me to me.
Additionally, tote bags are also generally affordable and sustainable. There gives countless of different library themed tote bags out there as well.
20. Book-style laptop sleeve
This one is a cute gift but also practical. It can also be a laptop case, it doesn't have to necessarily be a sleeve. It's also about personal preferences. I don't like laptop cases; although, it might be safer than lugging my laptop around only in the laptop sleeve. Once again, there are many different book-style or bookish laptop sleeves.
---
In summary, I – like many readers – hoard a bunch of cozy, comfortable, reading inducing bookish items. I hope this list of 20 gifts will help you find the best Christmas gift for the reader in your life. 🎁