This post may contain affiliate links, which means I'll receive a commission if you purchase through my links, at no extra cost to you. Please read my full disclosure for more information.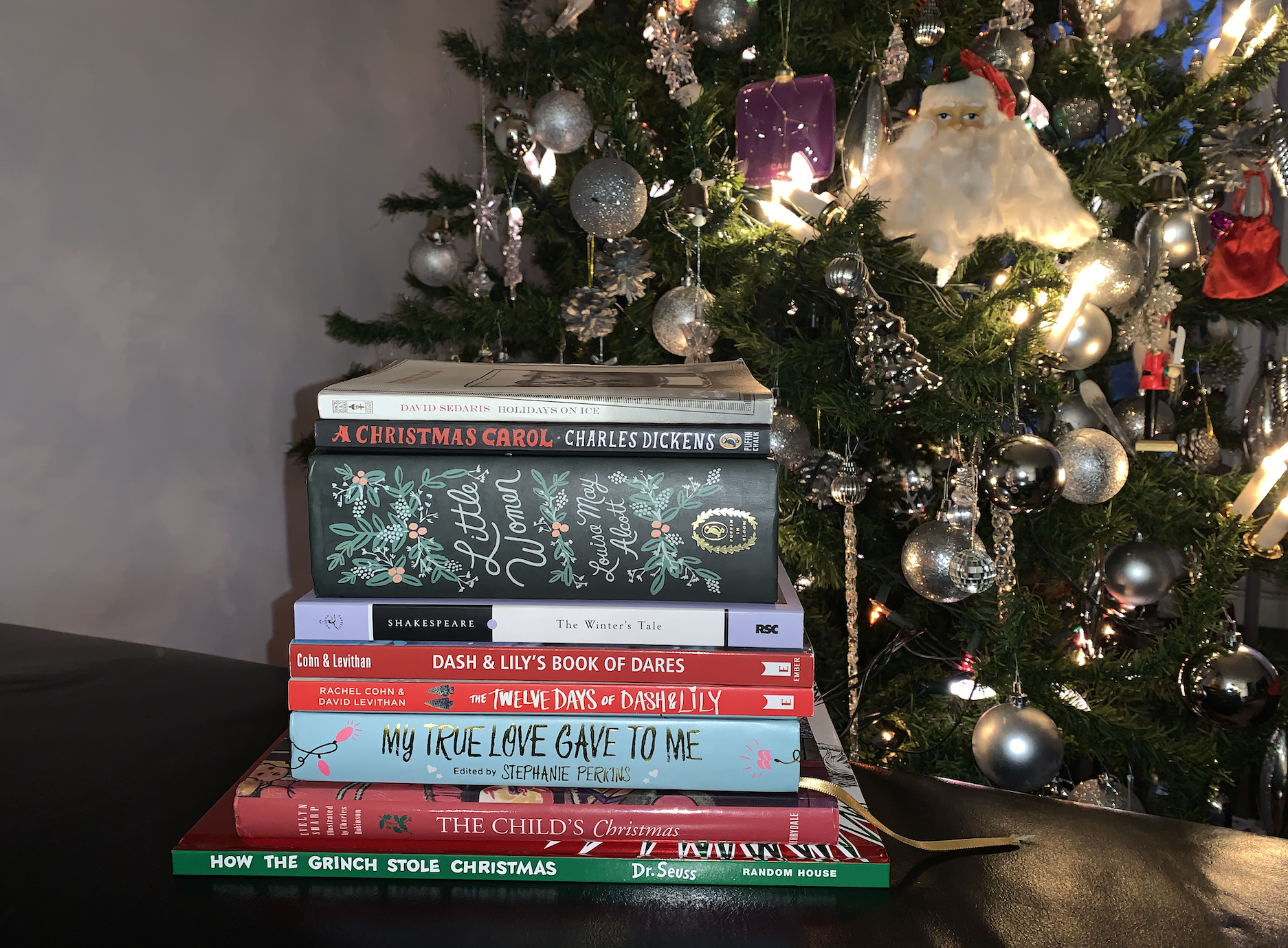 There is nothing comparable to a good Christmas book on a wintery night leading up to the holidays. I have compiled a list of my top 10 favourite Christmas books of all time. 🎄
Plus, a lot of these books actually – have as of recent or from the past – have been adapted into movies or TV series.
---
1. "A Christmas Carol" by Charles Dickens
"A Christmas Carol" is a Christmas classic, a tale of victorian morality. It is a very short novella to read, perfect for one of those wintery nights before Christmas. 
This story follows a miserable bitter man named Ebenezer Scrooge who has to go through a transformative experience and change his ways when he is warned to do so by the ghost of his long past business partner.
This one is at the top of of the list because its yearly reputation as the perfect Christmas story since its publication over a century ago.
Adaptation: There is the 2009 fantasy animated 'A Christmas Carol' with Jim Carrey as a lead.
2. "Let it Snow" by John Green, Maureen Johnson, and Lauren Myracle
"Let it Snow" is a Christmas themed book of three collected stories from well known Young Adult authors; John Green, Maureen Johnson, and Lauren Myracle. This collection is perfect for the wintertime because it is a quick lighthearted read filled with friendship and first relationship. Although this book is humorous and light, it also has its meaningful moment.
Furthermore, the three separate stories are interconnected.
Additionally, there is so much SNOW in this book.
Adaptation: There is now a 2019 Netflix adaptation of the book ready to watch once you finish the book.
3. "The Winter's Tale" by William Shakespeare
"The Winter's Tale" is a play by renown poet and playwright Shakespeare. It is quite an odd and heavily criticized play for it; as its part comedy, tragedy, and fantasy. 
In this royal tragedy, there is loss, love, loyalty, and madness. It is also a fascinating character study to watch King Leontes succumb to madness in raging jealousy and betrayal.
This play is not on this list because of its title but because of its themes. "The Winter's Tale" is about repentance, second opportunity, and forgiveness to say the least. This tale comes alive in the winter time, bringing warmth to the coldest of days. 
4. "Little Women" by Louisa May Alcott
"Little Women" is a heartwarming classic that begins in the Christmas time. Although it is a lengthy classic, it is so beyond comforting and quick to read through. This story follows four sisters – Meg, Jo, Amy and Beth – who are children when the story starts off. They progressively become into little women as we follow their domestic lives growing up, and, of those closest to them. 
This is the perfect book to ready by the fireside as it touches on themes of family, romance, friendship, career, and art that will fill your heart with equal sorrow and contentment during the Christmastime.
Adaptation: Luckily for readers, there are two amazing movie adaptations for "Little Women" that will fill your hearth with warm delight. The beauty and the emotion of this novel has been very well captured in the 2019 remake. "Little Women" remains a classic story that keeps giving. 
5. "We Met in December" by Rosie Curtis
First off, if the title itself "We met in December" hasn't sold you… just wait until you hear its hallmark quality. 
This romance book focuses on two main characters – their names are Jess and Alex. They meet through a mutual friend's luxurious house. They have chemistry but they are held back and instead they become really good friends in the following year. The romance is subtle. The story starts and ends in December.
6. "How the Grinch Stole Christmas!" by Dr. Seuss
"How the Grinch Stole Christmas!" is hands down my favourite children book period. Dr. Seuss's rhyming style is jovial and funny. The Grinch though happens to also be a very heartwarming story. It is very reminiscent in some ways of "A Christmas Carol."
The grinch hates Christmas, loathes it even. He is an outsider in every sense of the word. This Christmas, he will steal hope and joy from the Whos of Whoville by putting on a Santa outfit and sleighing down into the city to steal every gift and festive decoration. But the grinch's heart possibly faces a transformative experience such as the Scrooge.
Adaptation: There is the classic year 2000 adaptation (my favorite Christmas movie of all time ever) with Jim Carrey. As well, there is the new animated movie released in 2018.
7. "Holidays on Ice" by David Sedaris
"Holidays on Ice" is a collection of six unbelievably hilarious Christmas short stories. They're short, well written, and impactful. 
At times, they are quite cynical and niche humor but I can think of nothing better for the Christmas time. Even during Christmas, we need to read things that break up the tension.
This small book is also a perfect gift for a stocking stuffer. It is light and quick to read and perfect for a holiday laugh.
8. "My True Love Gave to Me" edited by Stephanie Perkins
"My True Love Gave to Me" is another shot story collection. There are 12 holiday stories by different young adult authors. It makes for perfect nighttime reading on the nights leading up to Christmas. 
This collection encapsulates the winter holidays perfectly. Some of these stories are like watching holiday romcoms.
Additionally, there are various religions and traditions discussed in these stories which makes it a more diverse read to appeal to different readers during the holiday season.
9. "The Child's Christmas" by Evelyn Sharp
"The Child's Christmas" is a touching children's Christmas book. I was gifted it when I was younger and have been reading it every couple of years since. 
It is a quick and short read accompanied with gorgeous black and white illustrations. The story follows a family and its children as they prepare for the days leading up to Christmas as well as New Year's Eve.
As I said, it is a heartfelt family story with subtle discussion of traditional values. It is in no way too overbearing to read as it is a beautiful Christmas story.
10. "Dash & Lily's Book of Dares" by Rachel Cohn and David Levithan
"Dash & Lily's Book of Dares" is a fun Christmas adventure book. Set in the wintertime of New York city, the story goes as follow: Lily leaves a notebook filled with dares at her favorite bookstore (The Strand) in hopes for the right guy to pick up the book and accept the dares. Dash picks up the book and the dares begin as the book is passed back and forward between different NYC locations.   
Will they meet in person and like each other off the page?
Plus if you enjoy this one, there is a second book ("The Twelve Days of Dash & Lily") and third book ("Mind the Gap, Dash & Lily") to this series. 
Adaptation: The new Netflix adaptation – miniseries – has been released in early November 2020. Hopefully there will be more series to come with the publication of the new books.