This post may contain affiliate links, which means I'll receive a commission if you purchase through my links, at no extra cost to you. Please read my full disclosure for more information.
Every year, I challenge myself to read at least 12 classics – one for every month.
I find that when I am out of school and university, it is harder for me to gravitate towards older literature and classics because they can be challenging at times. Sometimes, they are also much longer reads. However, this does not lessen my love for classics and my desire to read them.
Hence, accumulating a list of classics that I absolutely want to read before other books every year.
Some of my top favourite books every year involves classics. You can read my Top 20 Books of 2020, here.
Here are the 12 Classics I Want to Read in 2021. I give a brief non-spoiler summaries of these books while mentioning if I've read other classic(s) by these authors.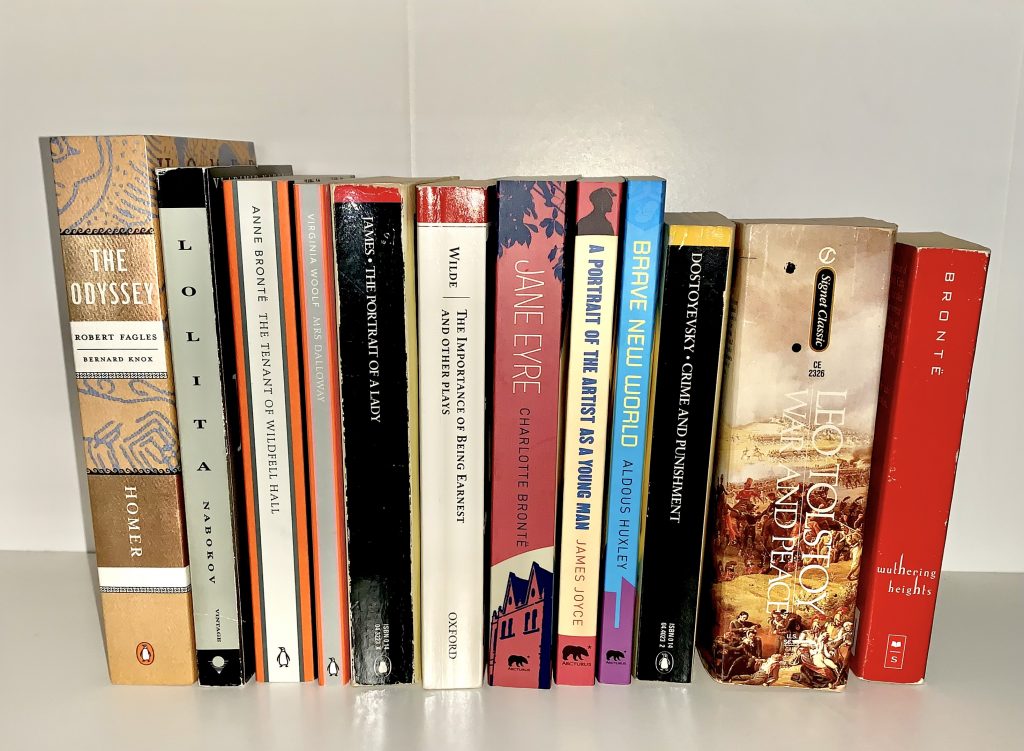 ---
1. "Wuthering Heights" by Emily Brontë
"Wuthering Heights" is a classic 19th century forbidden love story. Catherine and Heathcliff's childhood friendship blossoms into this big love story but fate keeps dragging them apart.
However, not even death can keep the young couple apart.
I really really want to read this classical, thrilling love story this year. Actually, I want to read a book from every one of the Brontë's sisters.
2. "Jane Eyre" by Charlotte Brontë
"Jane Eyre" is another book by the Brontë sister.
As mentioned, I have never read the Brontë sisters and this year will be the first I'll read something from all three.
The story follows a governess who has had a hard childhood. This governess works for a new employer, Mr Rochester. Soon enough, she starts falling for him. But Jane's hopes and dreams come crashing when secrets of Mr Rochester's life becomes known.
3. "The Tenant of Wildfell Hall" by Anne Brontë
"The Tenant of Wildfell Hall" is by the third Brontë sister, Anne.
This book follows a very mysterious and brutish tenant, Helen Graham. However, things are more complicated than they seem in the town's gossip. This story explores marital cruelty and the gravelled road towards redemption.
4. "Lolita" by Vladimir Nabokov
"Lolita" is a highly highly controversial novel. But from personal experience with Nabokov's writing in his short fiction, I am sure that this book is amazingly written even with the taboo subject matter at its core.
It follows a man's – Humber Humber – extreme obsession with a younger girl, referenced as Lolita. It makes for a really compelling and unsettling story simultaneously.
5. "War and Peace" by Leo Tolstoy
"War and Peace" is a second very long novel by Leo Tolstoy.
I finally finished reading "Anna Karenina" last year and it was an absolute masterpiece.
As for "War and Peace," the book follows the years leading up to Napoleon's invasion into Russia. This story greatly depicts the themes of innocence vs corruption at its centre.
It is a long arduous tale about history, change, conflict, and society.
6. "Crime and Punishment" by Fyodor Dostoyevsky
"Crime and Punishment" is another novel by a Russian novelist, the third one on this list.
In the slums of St Petersburg, a man who once was a student – Raskolnikov – commits a murder. He has no remorse nor regret but slowly his conscious catches up with him as he tries to flee from the authorities.
I have read both "The Idiot" and "The Brothers Karamazov" by Fyodor Dostoyevsky and they were both amazing reads despite their very long length!
7. "Brave New World" by Aldous Huxley
"Brave New World" is a futuristic dystopian novel, published in 1932. In this world, technology has advanced reproduction and has laid groundworks in other aspects of life. In this dystopia, only the protagonist seems to resist the societal order.
This book is often referenced as it is part of the classical canon of the Dystopia genre.
Additionally, in the last year, "Brave New World" has been adapted into a TV series.
8. "The Odyssey" by Homer
"The Odyssey" is one of the oldest and most beloved classic. It is The Epic story about Journey.
I read "The Iliad" by Homer during my undergrad, so this tale is a long time coming for me.
This story follows Odysseus in his 10 year journey following the Trojan wars. It is an interesting portrayal of moral resilience and endurance through the trials of a long journey.
I think it's worth noting that I have the Robert Fagles edition of "The Odyssey."
9. "The Portrait of a Lady" by Henry Joyce
"The Portrait of a Lady" follows Isabel Archer, who is an American heiress just arriving in Europe. She is an intelligent lady who has to courageously face her destiny as she refuses two suitors while being captivated by the charms of a man named Gilbert Osmond.
I'm really excited to read this one because my favourite author ever (Stephanie Danler who wrote "Sweetbitter") has drawn inspiration from this classic during the writing of her own first novel.
10. "The Importance of Being Earnest and Other Plays" by Oscar Wilde
"The Importance of Being Earnest and Other Plays" contains dramatic Renaissance plays of the 1890s by the notorious, rebellious Oscar Wilde.
Wilde is such a phenomenon. "The Picture of Dorian Gray" by Wilde is one of my all time favourite classics ever.
Honestly, I'm wild about Wilde. And I am sure these obscure plays will be of no exception for me!
11. "Mrs Dalloway" by Virginia Woolf
"Mrs Dalloway" is a well-known and well-loved novel by Woolf.
I read "To The Lighthouse" during my undergrad and the stream of consciousness writing style from her novel has stayed with me for a very long time.
This book, "Mrs Dalloway," follows Clarissa Dalloway who is a high society woman. This short novel tells the story of this character post World War I. It surrounds her preparation for an important party that she is hosting but through a back-and-forward narrative cushioning the main event.
12. "A Portrait of the Artist as a Young Man" by James Joyce
"A Portrait of the Artist as a Young Man" is another highly acclaimed classic. I intend on buddy reading it with my friend from my Master's degree.
The story follows the story of a childhood and youth of a Dubliner named Stephen Dedalus. This book is said to be a self-portrait of the author's own life.
In this modernist work, we see the arduous quest to forming a self-identity that is separate form the family, from religion, and from one's own nation itself – in this case; from Ireland.
I am very excited to read this one as a young artist "writer" myself, this is definitely a must read classic.
---
I hope you enjoyed this list of the 12 classics I want to read in 2021. Let me know if you have read any of these classics or if you've added them on your list.
What are some of your all-time favourite classics?
Furthermore, I also make a list of books I want to read that are not classics related every year as well as books I want to read that are strictly poetry collections, you can read those here: