This post may contain affiliate links, which means I'll receive a commission if you purchase through my links, at no extra cost to you. Please read my full disclosure for more information.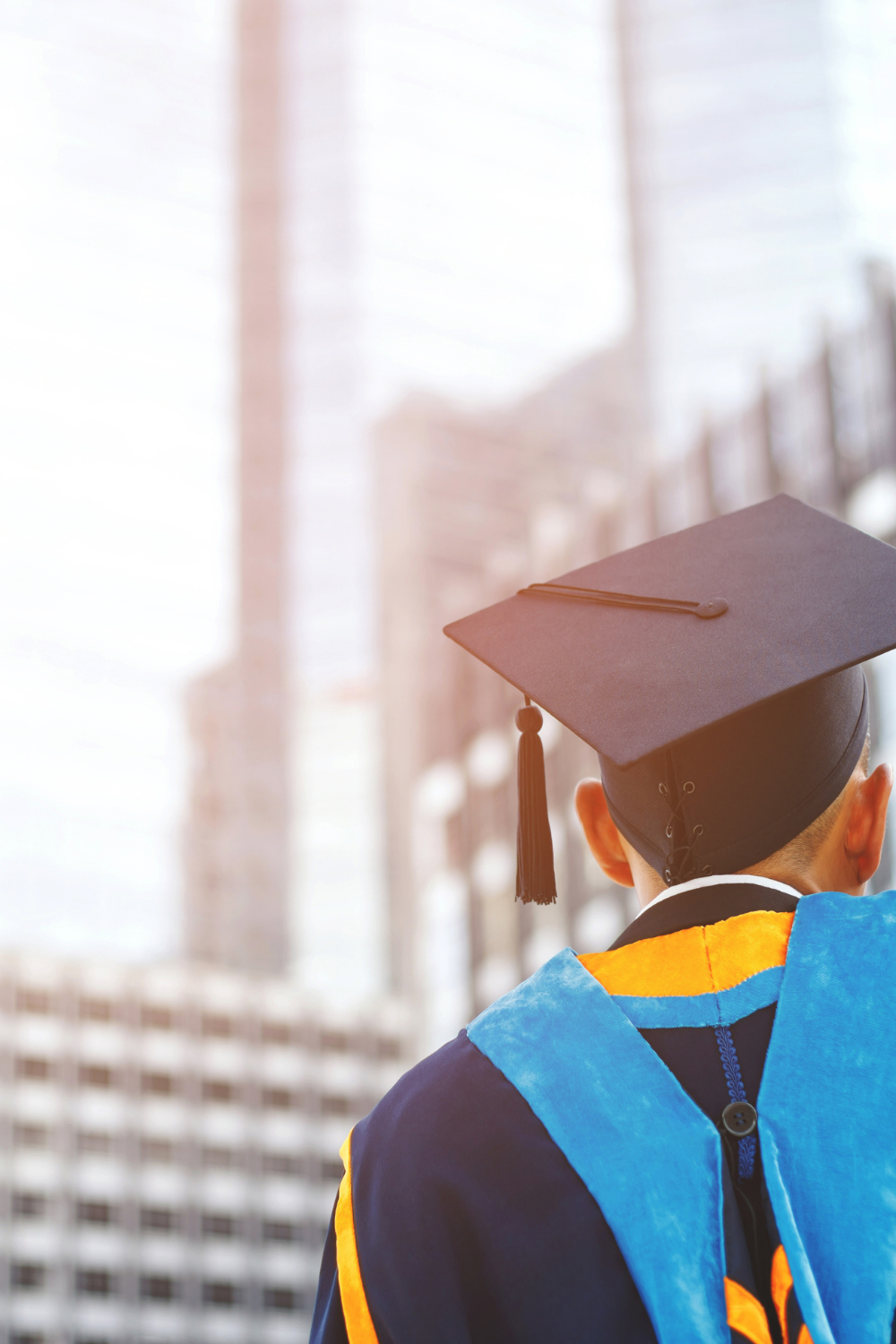 Graduation gifts for Him aren't as hard to find as you might believe them to be! Guys also need practical and fun gifts as they embark o n the new road ahead of them!
However, you should not shy away from sentimental and memorable gifts too! Graduating is a big accomplishment and it shouldn't go amiss for her nor for him.
Here are the 25 Best Graduation Gift for Him. You can also read the 25 Best Graduation Gifts for Her here.
---
1. Waterproof Speaker
Gifting him a Waterproof Speaker is a great graduation as it is useful and he's most likely to use it often. In the shower, at the pool side, while cooking, etc!
2. Single Serve Coffee Maker
A Single Serve Coffee Maker is a must-have for a newly graduate, and therefore a must gift! It will save him money in the long run to make coffee from home and he will be grateful for it! A great brand is the Keurig Single Serve Coffee Maker.
3. Watch
A lot of guys love receiving and even collecting watches! You can gift him the Apple Watch for graduation if he's more of a techie and athletic guy! Or a regular classic looking watch – like the Ultra-Thin Minimalist Waterproof Watch – will do the trick too if he's more into old-fashioned things!
4. Nintendo Switch
The Nintendo Switch is also must have and therefore a great gift for him post-graduation. Although a little more on the pricier side but totally worth it.
Chances are he's already been eying it! No one is too old to play video games. Plus, the Nintendo Switch is so convenient and has a variety of games befitting different interests!
5. Luggages
Luggages are also the perfect graduation gift for him. Many recent graduate take trips whether local or international. Fuel the wanderlust of the recent graduate in your life by gifting them a luggage set! Luggages are perfect as well for moving season as it is also a way to move one's clothes as well.
6. Hoodie
Chances are he will not be disappointed at receiving yet another hoodie. Almost everyone loves hoodies because they're so comfy and warm. The Champion Men's Hoodie is a must-have! Plus, it comes in many different colours and sizes!
7. Reusable Water Bottle
Whether or not he's a gym goer, he will appreciate being gifted a good Reusable Water Bottle. It is practical and needed in every day life. Plus, it will save him money from constantly buying water bottles every time he's on the go!
8. Air Pods
I don't know a single one of my guy friends that don't own Air Pods. Seriously, Air Pods are great gifts! It's something everyone secretly wants to have but doesn't want to pay for themselves. So if he doesn't have a pair, he will be more than ecstatic at receiving one!
9. Air Pods Case
If he already owns a pair of Air Pods, gifting him an Air Pods Case is the next best thing! As it is practical. No one wants to face the horror story of losing one of their pods… Trust me!
10. Satchel
A Satchel is also a useful gift for him as he will need something to travel around his laptop as he goes back to school or to work!
Satchels are not only practical but they're also elegant and durable! The GEARONIC Genuine Leather Canvas Messenger Vintage Satchel is exactly an example of this!
11. Cards Against Humanity Game
The Cards Against Humanity Game is a fun gift for his graduation. He will love playing this widely hilarious and fan favourite card game with his buddies!
12. Tool Kit Set
A Tool Kit Set doesn't seem like an exciting and fun gift but it is. Especially when it comes in handy.
As mentioned earlier, some of these graduation gifts he needs but doesn't think to buy it or doesn't want to buy it for himself. And therefore, receiving one of these Tool Kit Set will make him feel subconsciously more secure about the future!
13. Business Books
Gifting him business books or even self-development books are a great graduation gift. Everyone needs a little financial help, advice, as well as life advice after graduating.
Plus, you're encouraging reading and learning beyond the limitations of school. One of the top books I recommend is "I Will Teach You to Be Rich" by Ramit Sethi.
If you're looking for more books to gift recent graduates, I recommend reading my separate blog post on the topic here.
14. Pocket Knife
A Pocket Knife is also a needed graduation gift for him. Pocket knives are very practical for different situations and it is not just for handsy guys! Plus, it's a right of passage and simply useful to have one. Chances are he will use it a lot when moving in the future!
15. Graduation Diploma Frame
A diploma frame is another practical gift for his graduation! He will need to frame his new diploma and will be grateful to have a beautiful frame at the ready! And trust me, he will be happy to not have to buy one himself!
16. Slim Wallet
Gifting a Slim Wallet never goes out of style! It's useful and aesthetically pleasing. Plus, the Slim Wallet won't overburden his pocket with heavy weight. He will be grateful to receive this as a gift. Additionally, it conveniently comes with a money clip. And, it is security tested!
17. North Face Backpack
The North Face Backpack is an ideal gift for his graduation. Especially if he's an avid traveller and/or hiker. If he loves camping or outdoor adventures!
However, this backpack is quite versatile as it also comes padded and contains a laptop sleeve. Thus, he can also use it for every day life as well as for travel!
18. Roku Streaming Stick+
The Roku Streaming Stick+ is an ideal graduation gift as it will give him full streaming access to all of the different streaming services in one!
19. Large Duffel Bag
A Large Duffel Bag is another staple graduation gift for him. Maybe he's not a luggage guy or a backpack guy. Duffel Bags are also great for storage, for gym equipments, and for getaways. No matter what, he will find use for it!
20. Portable Charger
A Portable Charger is another essential and great graduation gift for him. He will always find this gift practical! Even more so if he's constantly on the go or always draining his electronics!
21. Noise Cancelling Headphones
I'll be honest I think everyone requires a pair of Noise Cancelling Headphones. It is a practical gift for him especially if he can't do work when there's noise around him. Whether he moves out or lives at home, he will be grateful to escape the people around him.
22. Echo Dot
The Amazon Echo Dot is a smart home device much like a personal assistant. This powerful device can turn on the lights, share reports, set alarms, and control your music, to name the least. It is easy to use, affordable, and a great graduation gift.
23. Amazon.com Gift Card in a Congratulations or Graduation Style Gift Box
An Amazon.com gift card in a graduation cap style gift box can be the perfect gift for his graduation. He can use it to buy what he truly needs and wants. Plus, you can choose the amount you want to include. And the box remains a commemorative reminder of the graduation.
24. iPad
An iPad is a bit on the pricier side of a graduation gift for him but it is a great gift he will love and use for a while. It will be perfect for him to get through work emails, organizing, watching Netflix, and even note-taking if he decides to go back to school.
25. Leather Bound Journal
A Leather Bound Journal is a thoughtful graduation gift for him. Everyone needs a designated notebook to write down their thoughts, goals, and future plans. He is not exception! Plus, he will love that it's leather bound as it holds even more importance and encourages him to express himself!
---
I hope this list of 25 Graduation Gifts for Him will help inspire you to find a gift for him! You can also read my separate post on the 25 Thoughtful Graduation Gifts for Her here.