This post may contain affiliate links, which means I'll receive a commission if you purchase through my links, at no extra cost to you. Please read my full disclosure for more information.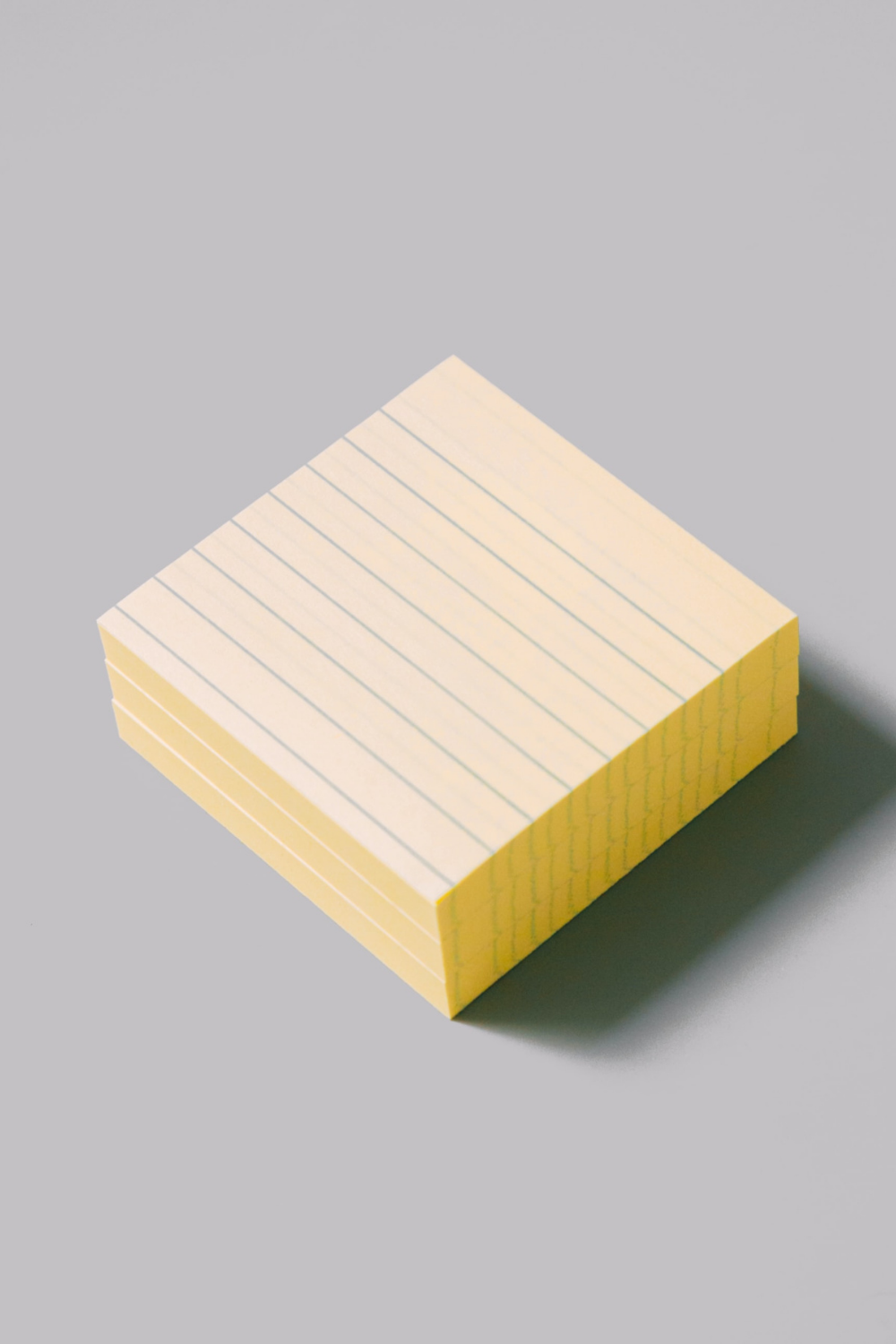 Annotating a text, book, academic essay and/or article for university is an invaluable skill that I truly believe every student should learn. It can seem and be challenging at first. But once you start and find your style of annotating, reading and comprehending texts becomes much easier and yes, enjoyable.
In this post, I will walk you through on how to successfully annotate a text for university! 
You can watch the video instead:
What is 'annotating'?
Annotating is the act of taking notes on a text (essay, article, book, etc.). Annotation is done through the acts of highlighting, underlining, as well as writing notes in the margin of a text.
Essentially, you add your own comments, thoughts, and notes on the text that you are reading.
Furthermore, annotating is also linked to the term of "close reading."
Why annotate?
Annotating gives you extra insights and simultaneously unlocks further comprehension surrounding the text that you're reading.
This is largely due in part for the active reading and understanding of the text when you take the time to absorb and comment on the text. It's the opposite passive and/or distracted, quick reading.
Instead, you are in conversation with the text. In this matter, the text becomes personal and intimate to you. In the future, you will remember more from it. And if not, you can always look through your annotations for the ideas you missed or have forgotten.
Benefits of annotating
There are very many benefits of annotating. Many of the benefits are not solely academic related as many people – including myself – find annotating enjoyable, making the reading experience pleasurable and memorable.
Here are some of the main benefits:
You're more engaged with your reading and therefore important details don't pass you by
It can also help you analyze text as you go, making it easier on the second read through to understand the text as whole

It helps you find the main ideas, thoughts, and arguments of a text

You can find quotes and information much quicker when you need to recall them e.g., when you're composing a response or an essay, or for other citing purposes; when you're studying for a test or an exam, etc.
How to annotate?
There are so so many ways to annotate. Eventually you will determine a style of annotation that suits you and is convenient to you. Also note that different books as well as different forms of texts might require different types of annotation for you.
Here are some of the common ways of annotating:
1. You can record your emotional responses and thoughts as you read the text
By writing in the margin

Of moments when you laugh, cry, feel inspired, disgusted, intrigued, etc.

I personally even write words like (Haha, Oh No, So sad, 😭, ❤️, Omg, WTF, etc.)

Basically, write down your thoughts as they come up!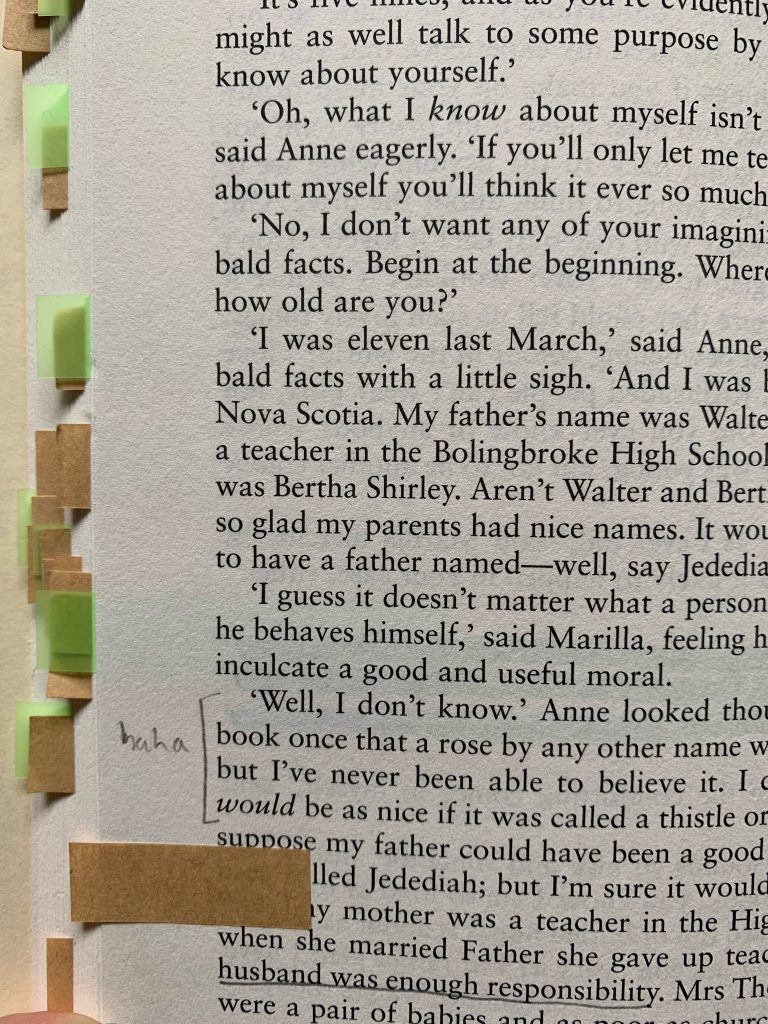 2. You can mark the changes and shifts of the text
Different POV (point of views)

E.g., the story switches from a character to a narrator

Different genre

E.g., suddenly there is a poem or a letter inside a novel

Different transitional turn

Especially when reading critical texts, essays, reports, etc.

Highlight and underline transitional and causal words such as, "however," "consequently," "to conclude," etc.

You get the causal relationships and you can connect the dots
You establish the different points and ideas the author is trying to make
3. Write notes in the margin or on sticky notes
I used to write my commentary on sticky notes but I found that they might get lost
I write them directly in the margin of the books, because I own the books on my shelves (I would also buy all of my school books and print all of my essays and critical sources for that reason)

For some essays and critical sources, I took notes and inserted highlights directly on the digital PDF

If I was unable to mark the file directly, I made a separate Word document with my annotations

You can also do that too: carry an extra notebook or online document for your annotations
4. Make summaries of each chapter and/or section you read
You can even write these directly at the end or beginning of your book, text, essay, etc.

When making these summaries; use paraphrases

In which you illustrate the key points, main characters and ideas, as well as new definitions and/or concepts
5. Circle or underline uncertain words or new vocabulary
Chances are you might think you know what this new word means but you'll never truly know what it means in the context it's being used unless you use a dictionary

Never underestimate the power of a singular word

Always look it up and collect your word bank!

It not only enriches your reading experience, but also your learning as you gain further knowledge and comprehension of the materials you read
6. Star ⭐️ any important or pivotal scenes or ideas
They might be foreshadowing future scenes and ideas

Plus it will be easier to flip back to the passages you starred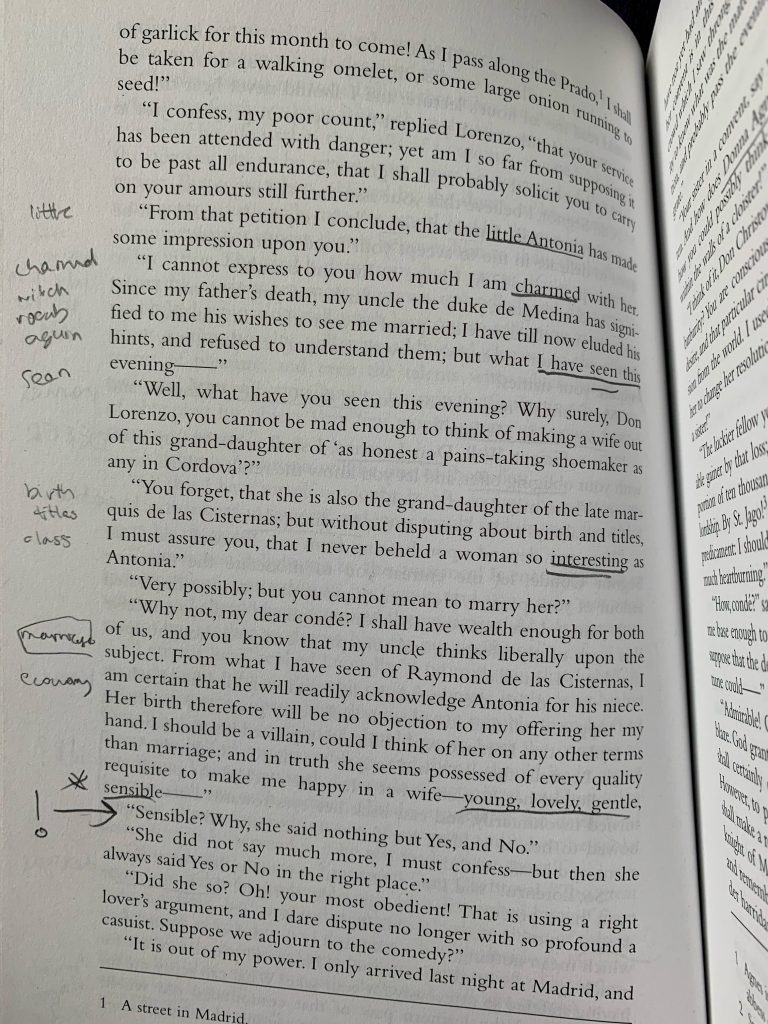 7. Add a question mark ❓ next to the things you're uncertain of / don't understand
This will allow you to do further research online
To ask your professor what a certain concept or passage means, ask for clarifications
8. Exclamation points ( ! ) for dramatic scenes, plot twists (if you're reading a novel), and new ideas that took you by surprise
Once again, this is great point of reference when you're flipping back through the text

Remember: the point of annotating is to code, organize, and engage with the text
9. Highlight (or circle) character names in one colour every time new characters are introduced
I also like to make a list of character as I go

Especially when reading Russian novels

Have you seen the list of characters in Tolstoy's "Anna Karenina" ?!

Every character not only has a name but has a nickname and a variation between their name, nickname, and family name

Super confusing to read without my initial annotations to keep me on track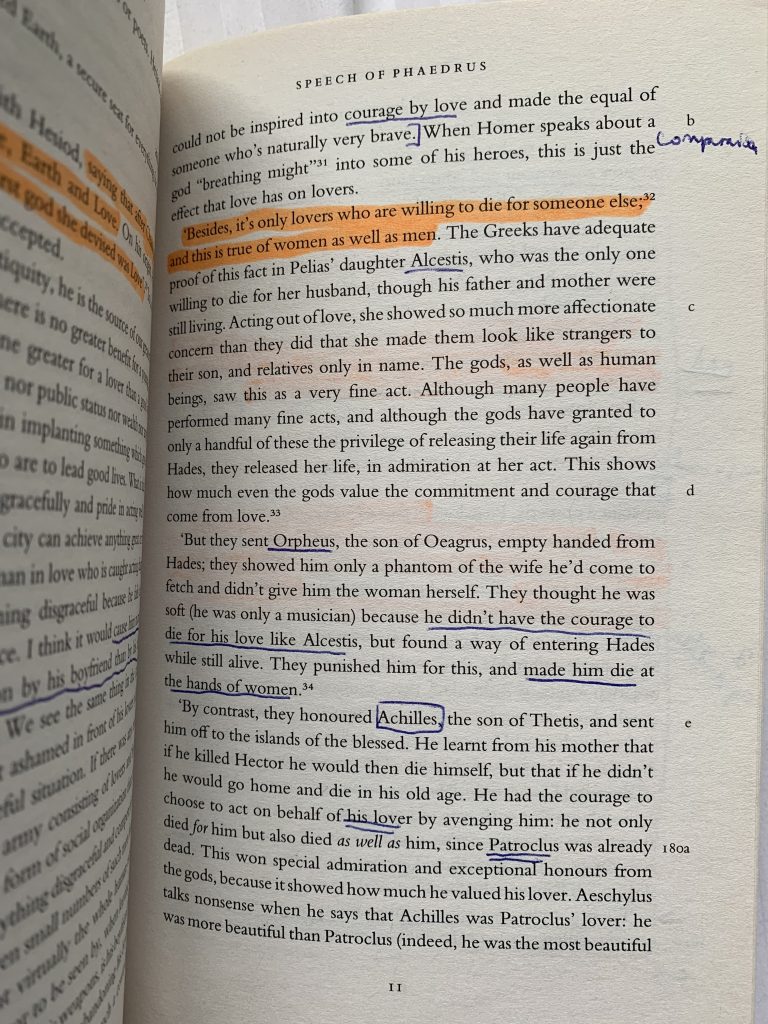 10. Highlight the different literary devices
This is specially important if you have any literature classes and essay!

Note any symbols, imagery, metaphors, figurative speech, etc.
Also note any patterns and repetitions

It's not only about the ideas and characters but it's also about how and what language is used to describe characters, places, and patterns of speech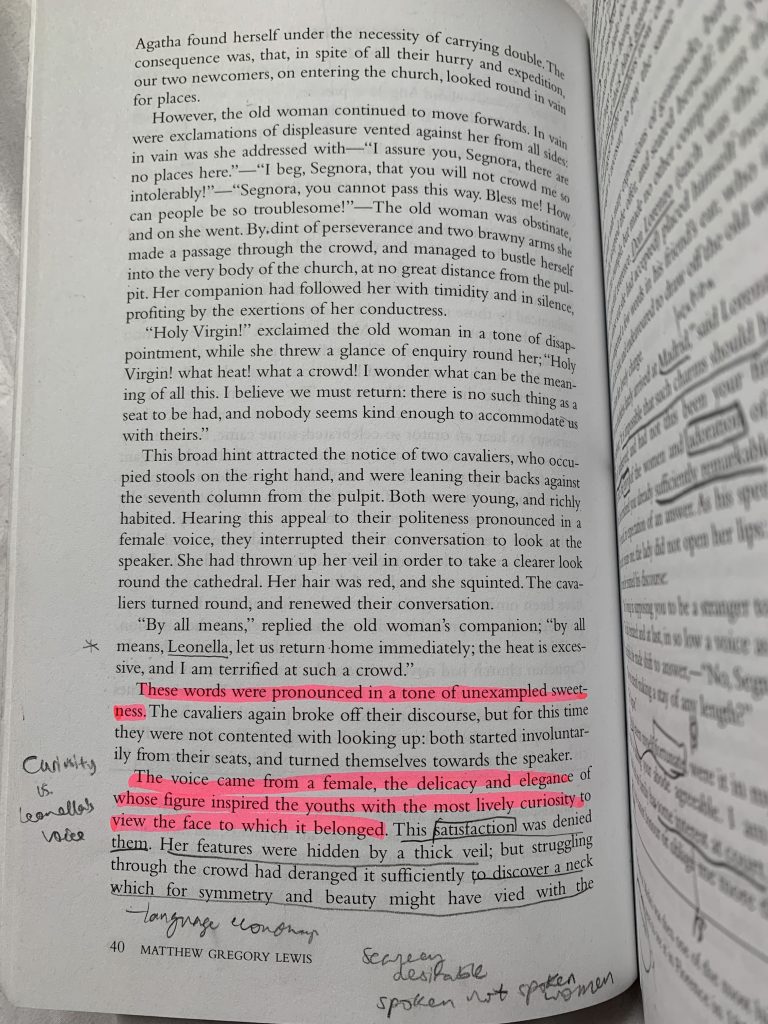 11. Tab with sticky tag notes the most important passages, quotes, concepts, etc.
You can use different colour tags

For your favourite passages
Your most important theme, character, quotes
What you want to use for essay
Etc.
12. And finally, you can also use the colour coded method when highlighting (or underlining) your books (or essays)
E.g., Underline blue for setting,
yellow for characters,
green for specific theme or for a repeated motif, etc.
Additionally, if you reading a novel you might want to colour code mainly based on the different themes such as;

E.g., Highlight orange for trauma,
blue for motherhood,
yellow for immigration,
and green for love, etc.
---
Those are my 12 methods on how to annotate a text for university.
As I said, you get better at annotating through practice!
Eventually, you will learn your own patterns of thinking and therefore annotating. Every text might require different annotation and annotation style from you.
In university, I had texts littered with annotations but they all had different codes, colours, and notes.
Another thing worth mentioning is that I only annotate when I need. Therefore, I don't always need to annotate!
But since I want to annotate the text I read (for school and for personal pleasure) because it allows me further engagement and enjoyment with everything that I read.
What is your favourite annotation method? What is the book you most annotated? 📝
Like the post? Save Pin for later!