This post may contain affiliate links, which means I'll receive a commission if you purchase through my links, at no extra cost to you. Please read my full disclosure for more information.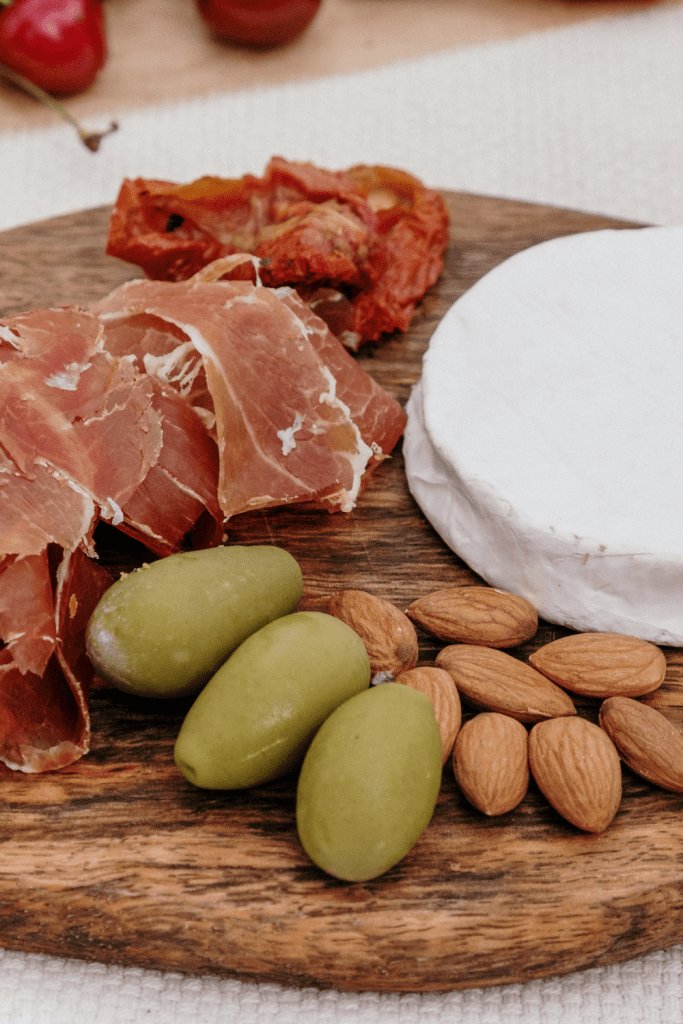 Charcuterie boards are the best and easiest snack food or party tray for gatherings or for wine nights amongst a small – or even large – crowd. 
I made my charcuterie board more or less keto-friendly because I know a lot of people want to nibble and have snacks food but not feel too-too guilty while doing so. As my mother follows the ketogenic lifestyle, I have adapted my board and was up for the challenge!
What is Charcuterie?
First off, charcuterie boards are gaining so much traction in the last few years even more so than it did before. The funny thing is… the idea is not novel but you know how the internet goes – we take an idea that was already developed and we run with it! (Guilty as charged angel 😇)
Alright so what does "charcuterie" mean? It comes from the French word "charcutier" which is a person that prepares or sells pork products and/or is a pork butcher. Listen, I am not trying to flaunt my French here. The terminology has been around.
What is on a Charcuterie board?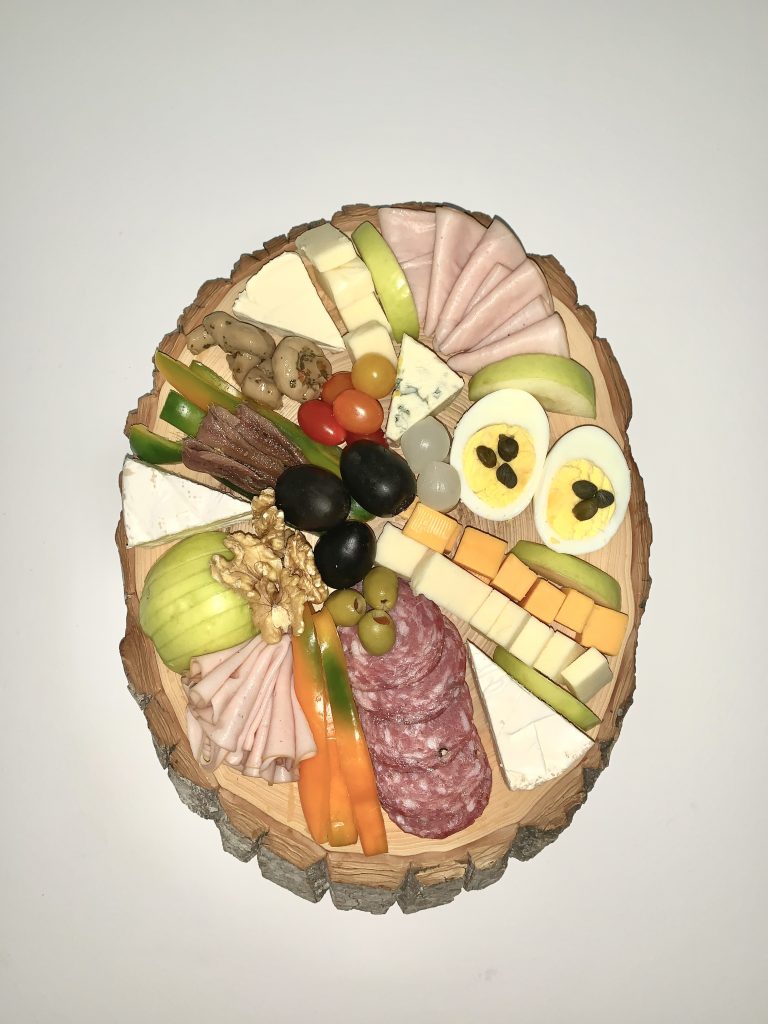 In essence, a charcuterie board contains a mixture of dried meats as well as a selection of cheeses. Other most common items found are crackers, nuts, dried and fresh fruits, crackers, and pickled vegetables. Honestly, people have been putting all kinds of goodies on their boards such as chocolates and sweets for valentine's day.
How to organize a board?
My tips are to:
Add your big items first
Start from the middle
Stuff the board at the end
If you put your bigger items and/or higher quality goods first, it gets easier to tweak and add around them when making an aesthetic charcuterie board.
You can have a simplistic board and have very little on it. But if you are going for a more wild and creative board, I would start stacking and organizing from the middle and then going outwards on the board.
At the end of that process, you can stuff the board by adding miscellaneous items such as pickled goods and dried fruits and nuts.
What to put on a charcuterie health-friendly board?
Although lots of processed meats and cheeses are still not recommended for a balanced diet and/or day to day eating lifestyles, they are passable options on occasion! Charcuterie boards in general are a fun and delicious quick splurge once in awhile.
Don't be afraid to mix & match! Different cold cuts, cheeses, pickled vegetables, fruits, and nuts!
Here are the items I put on my charcuterie board (as pictured at the beginning of this post):
Pickled jars 🫒
Pickled onion
Pickled mushroom
Capers
Green stuffed olives
Non-pitted large black olives
Fresh fruits & veggies 🍅
Green apple (sliced)
Colourful bell pepper (sliced)
Baby cherry tomatoes
Nuts 🌰
Meats 🍖
For meats, you can also use prosciutto and any other cold cuts, as well as a variety of salamis
Hungarian salami (sliced)
Turkey cold cut slices
Other proteins 🥩
Egg (sliced in half)
Sardines
Cheeses 🧀
For cheeses its all about variety! It makes your board tastier and more fun looking!
Blue cheese
Laughing cow triangle cheese
Mozzarella block cheese
Cheddar block cheese
Camembert
Other Advice:
Don't be afraid to add some dipping sauce, such as different kinds of prepared mustard (which is still healthy) as well as greek yogurt, or homemade hummus and/or guacamole.
I have a medium sized tree bark charcuterie board (pictured above) but there gives many larger and beautiful boards!
Beautiful Charcuterie Boards: