This post may contain affiliate links, which means I'll receive a commission if you purchase through my links, at no extra cost to you. Please read my full disclosure for more information.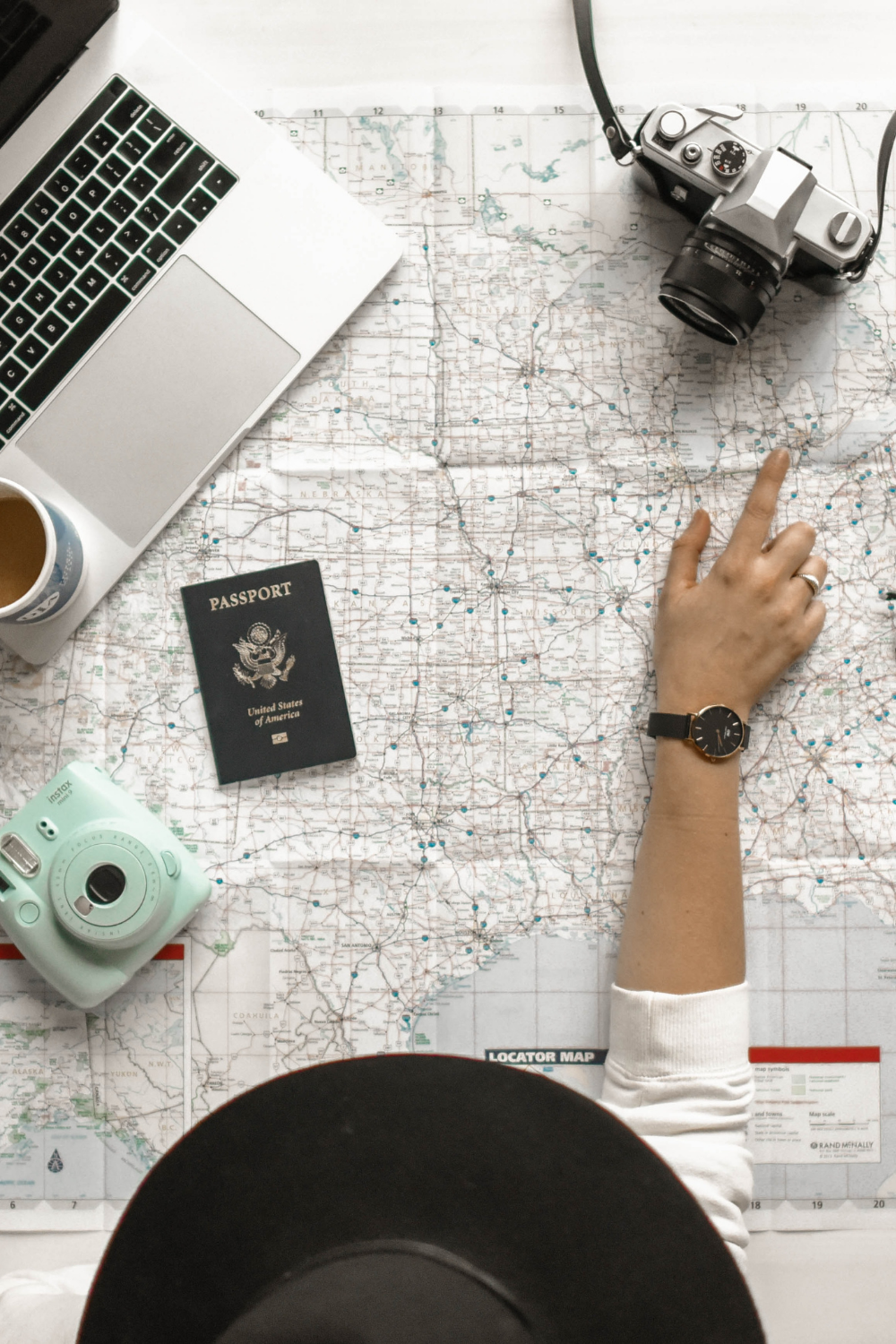 Vision boards are amazing because they are a collection of personal photos, photographs, images, stock photos, and/or any other visual media, representing the goals you envision in your head for the new year.
It is an effective way of visualizing what you want to achieve for your New Year's resolutions.
Throughout the year, it helps to visually remind you of the life you truly value and the goals you want to try to consistently and intentionally embody.
In this post, I demonstrate the steps on how to create a vision board for your 2021 New Year's resolution. I also show you my own vision board(s) as an example.
---
Before Making the Vision Board
You need to set your intentions beforehand because if you put random things on your vision board, it won't motivate and inspire you throughout the year to accomplish the goals you set.
1) Write down your goals
First, take your time to fully set attainable and actionable goals. Try to think what you truly want to accomplish this year and what you would do to get there. Use your favourite notebook and pens to do so. Then, highlight the most pressing goals. Those are the ones that will convert into the picture for your board.
2) Set the mood
Set the tone. Create an inspiring atmosphere, get yourself further in the mood by changing scenery or by blasting your favourite playlist . (This is the same step I take before novel writing and for journaling. And it works 😉.)
Or to get further inspired, you can go outside. If that's not possible, sit in your favourite spot in the house. I love sitting on the carpet in front of my four massively filled bookshelves in the basement.
It fills me with so much wonder and possibility for the upcoming year. Seeing all the books I've read throughout the years reassures me and inspires me to read just as much in the upcoming year. (One of my yearly goals is always to read 100 books.)
3) Focus
Focus on your main main goals. Go from the top 10 you set to then the top 5 and then the top 3. I would showcase the top 3 more on a vision board and only one or two images from the top 5.
You can also have more than 1 vision board. There are no rules to setting goals and in creating a vision board. You can even have 50 or 100 photos if you like. But the point of limiting it to 7-10 images per board reminds you of the core goals you want to achieve in the upcoming year.
I started making 2 digital vision boards in order to illustrate these steps. I'll show you my 2 vision boards and briefly explain what the images mean to me, and in response to my goals that I set for the New Year!
I made my two vision boards using Canva, the best online platform for creators!
---
First Vision Board
Health & Lifestyle (Healthy and Good Habits for Mind & Body)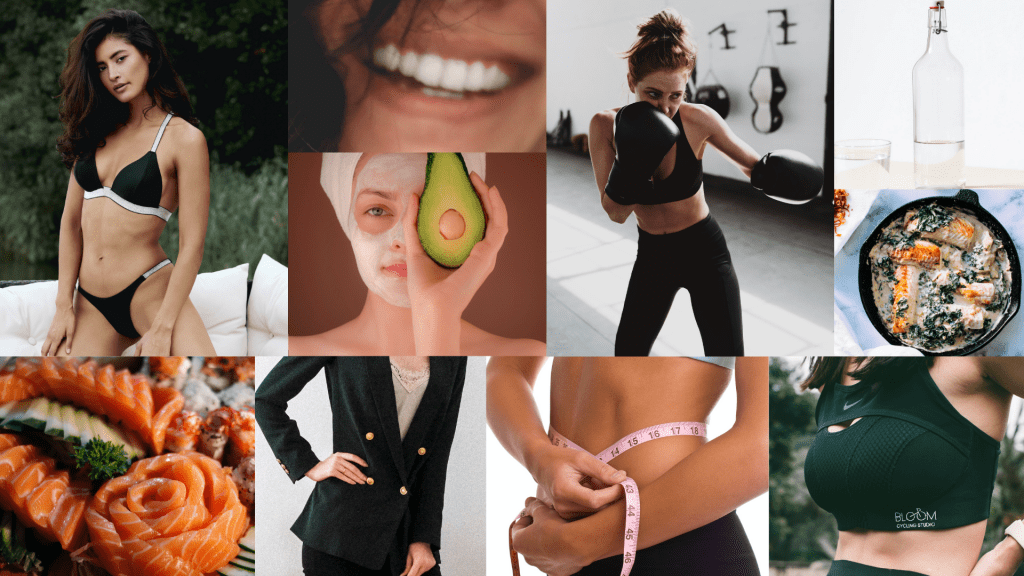 Healthy food
I put fish because I want to eat more fish rather than diary and meat products this year
Weight-loss
Fit bodies – because I want to reach that level of fitness
Working out
Boxing and weights because those are two workouts I enjoy doing

I have a punching bag at home and many different weights

I really want to tone my arms this year, specifically
Fashion
I want to feel and look great

And that means buying new clothes and more professional looking clothes such as blazers once I've lost some weight
I want to invest some money into nice clothing

I've never been one to spend money on clothing but buying a few pieces I really love irregardless of the price will make me happy and reward me for the journey I am taking this year
Beauty
Focus on drinking more water than anything else (coffee, tea, drinks, etc.)
Focus on fixing my sleep schedule and getting enough sleep
Focus on skincare, get rid of my acne
Focus also teeth whitening, I want a whiter, cleaner, and healthier smile

That means brushing for longer, using maybe some products for whitening, attending dental cleaning at the dentist, drinking less coffee 💀
---
Second Vision Board
Wealth (Money & Investing) & Work (Business, Content Creation, Platform Building & Planning)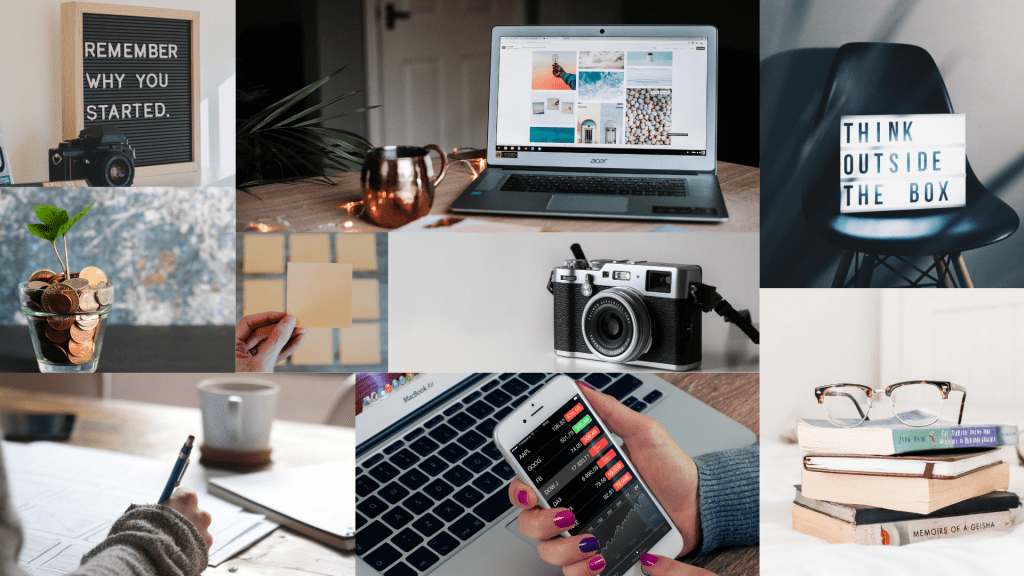 Business
Focusing on building all of my platforms (Pinterest, Instagram, YouTube) and digital products
Money (saving and making)
I am great at saving money but making a consistent income online has proven to be a challenge that can only be remedied with time, consistency, effort, and endless learning
Money (investing)
Learning more about stocks and investing as I start my investing journey
Camera; filming videos
Starting and growing my YouTube channel
Learn how to edit and film beautiful videos
Invest in filming gear
Sticky notes
Planning and having plot points for videos, blog posts, and also for writing my upcoming novels (as well as slowly pursuing publishing)
Books
Books will always be on this list
This year I am focusing a lot on personal-finance and self-development books
But I will always read a lot of fiction, poetry, and classics

They help build me as a writer (of fiction and for my website)
They fuel the storyteller in me
They help me with mental health and emotional clarity and respite
---
I hope you enjoyed this post and my vision boards! Let me know what are your goals for the next year and how your vision board(s) look like!
Let me know if you want more blog posts on goal setting!