This post may contain affiliate links, which means I'll receive a commission if you purchase through my links, at no extra cost to you. Please read my full disclosure for more information.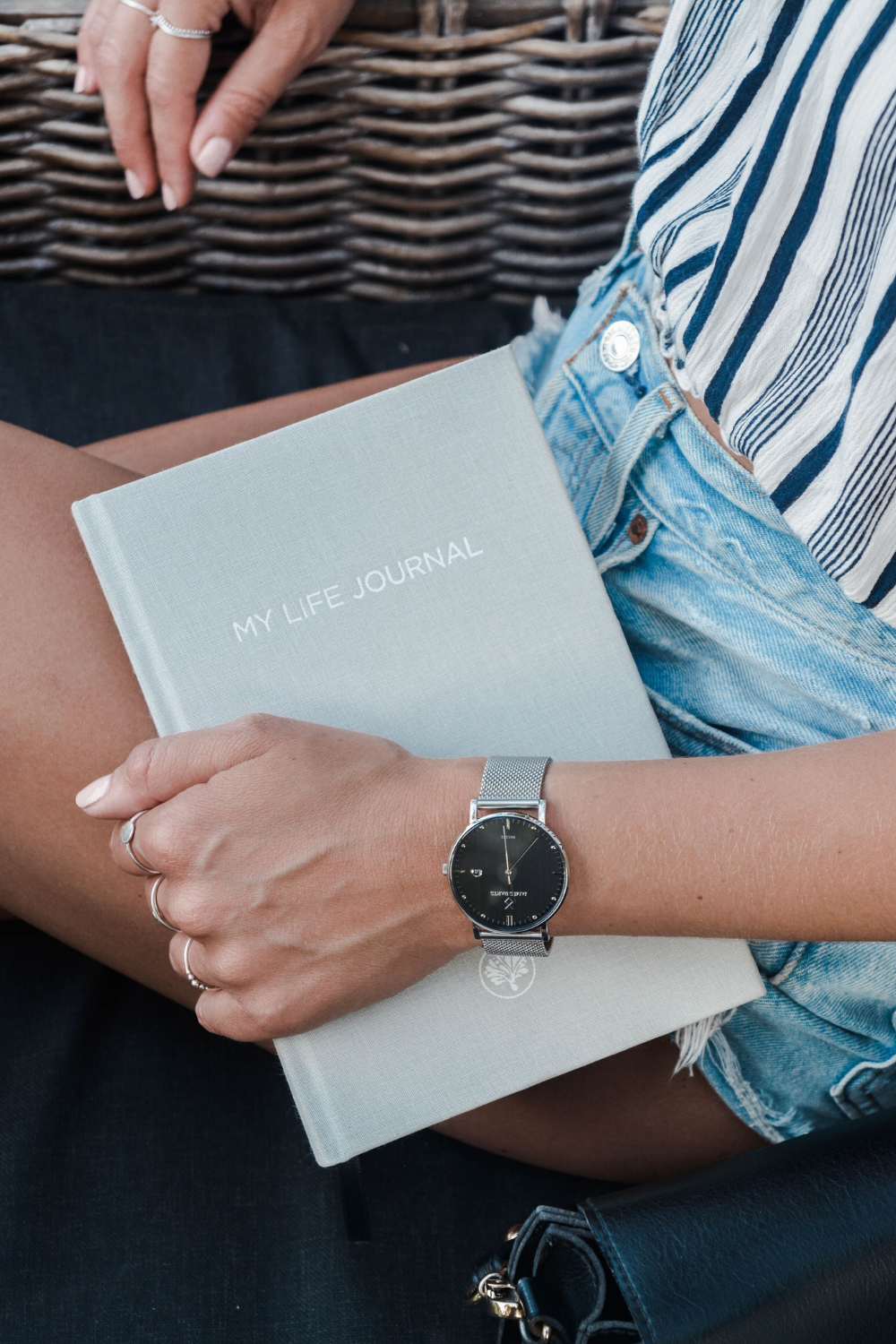 In this post, I walk you through the 5 main benefits of journaling for your mental health. If you want to know how to journal using 3 separate methods; you can read my other blog post here.
At the end of the post, I also list some of the thematic and regular journals that can help you get started.
Don't forget to download the FREE journal prompts to help you kickstart and/or to inspire your journaling journey.
Listed below are few of the very many benefits of journaling for mental health and clarity.
---
Benefits of Journaling On Your Mental Health
Benefit #1
Grants Clarity, Self-Awareness, and Discovery
First of all, journaling aids to gain extra clarity of some your inward thoughts, feelings, and emotions. Because journal offers a release of the unspoken words of your heart and of your mind; you gain a newfound clarity.
Journaling offers you the chance to go over certain memories, scenarios, and thoughts that have been plaguing you.
Slowly, through the practice of journaling, you understand what you think and how you truly feel. It is largely due to the fact your journal is private and in dialogue with its writer only, which is you, the owner of your journal.
Sometimes, this newfound self-awareness opens you up to discovering the hidden truths within you.
I can give you an example:
Say you always journal saying how much you vividly dislike your job and that your boss is constantly undermining your intelligence (true story by the way) then you uncover what you desire. A new job – one that you could grow and showcase your skills and you would at least not dislike.
In this matter, journaling can also help you solve problems by writing down the issues that arise and allowing yourself the time to process, think, and reassess.
Benefit #2
Helps Reflection and Growth
This leads us to the next big benefit of journaling which is the ability to reflect and consequently, to grow.
By obtaining this form of self-awareness, it starts to become increasingly hard for you to ignore signs, red flags, patterns of behaviour, when you have a visual representation expose to you.
These words – as scary or exciting or benevolent or malevolent; whatever they are – were felt, thought, and written by you. Now this is not to say we don't change or grow. It also doesn't say that we are the exact person we were last night, last morning, last week, or even last month when we wrote them.
This is exactly the point.
You now have points of reference. Do you of today looks different from the you of last month? How so? Have you improved on your self-growth, did you do that thing you wanted to do? Did you stop feeling that way towards yourself, a situation, a person, etc.?
You can always look back in order to compare you mental state. To see how far you are in your goals. Also, you can develop and discover new aspirations along the way.
It can – and it will – be confrontational at times. The more you are honest; the easier it gets to help yourself grow and change.
Journaling can be very telling. It can illustrate a lot of things to us as it highlights both our strengths and weaknesses as well as our maturity and willingness to change.
The whole point of life is growth; it's to bloom. Journaling is a tool aiding you in this process. So why not give it a try?
Benefit #3
Allows Self-Expression and Creativity
Journaling helps for self-expression as it is a place in which you can express anything and everything without the fear of being judged.
In this way, you can also develop a new voice through the written word much like what other writing offers. You have this sense of authority and authorial relationship with your journal. What you say and what you feel matters in whichever which way you choose to express it in your journal.
Journaling not only helps with you self-expression, but it also can help you formulate thoughts and ideas. We've already seen that you can tweak on your personal growth, goals, plans, as well solve problems. It is the same principle.
Much like a blueprint or an outline, journaling grants you an all access pass. In doing so, it gives you courage and can help you build self-esteem. Sometimes what you put on paper can translate off-paper. As you familiarize yourself with your ideas, plans, goals, feelings, and the likes; you can develop the assertiveness and courage to voice and talk through them aloud.
Furthermore, journaling can offer you boundless creativity.
Ignore what others and what I even say – journaling can be done in any which way you want. Actually I have a whole separate post on this here.
Journaling can be down through bullet points, drawing, comic strips, quotes, letters to yourself, long narratives, chronological, a-chornological, written in your second language, etc.
I knew a girl that would just journal quotes that corresponded accurately to the mood she was feeling that day – and sometimes she would add a thought or two to explain it for her future self.
I have heard of a guy that would journal in a story-like narrative, making himself a fictional character in his journals.
There was a friend of a friend of mine that was said to have journal random thoughts anywhere in her journal. Chronology as well as dates in general did not matter to her.
All these real-life examples to say that you can get creative with your journaling. There are no rules or regulations. This is largely due to the fact that the journal belongs to you, it is a discourse and confidant for you; the author and writer of your journal.
It is all up to you and what you decide to do. You can even follow the traditional forms of journaling if you wanted/like.
Benefit #4
Reduces Stress and Anxiety
It is no wonder that journaling releases some stress and anxiety. Writing down and therefore somewhat comforting what's ailing you at the back of your mind, reduces the anxiety around this fear/insecurity/problem that has plaguing you.
Some situation seem less scary, or reversely, more real, when we write them down. However, either way, confessing or revealing them by writing them down significantly reduces our stress and anxiety because we are no longer harbouring the thoughts.
We either expose confront the reality of a situation or notice emotional and psychological weight of something that was more abstract than rooted in reality.
Another reason why journaling helps reduce our stress and anxiety is because it allows time to decompress. We set time away in a busy or busy week in order to reflect on our inner world. It can help you unwind and catch your breath.
Journaling can help you do an emotional and mental dump from the events, feelings, and thoughts through the physical and psychological act of writing or journaling.
Even journaling for 5-10 minutes can help you reduce stress and anxiety in your day. Some people start off or close off their days with journaling precisely because of the benefits journaling gives them.
It is because journaling helps us relax.
Other people journal at the end or start or middle of the day, week, month for hours or through many pages. It all depends. Journaling helps reduces stress and anxiety in the way you choose to practice journaling. However, developing a habit of journaling can help you maintain the benefit of consistency reducing stress and anxiety.
Benefit #5
Promotes Well-Being through Healing
To begin by reducing stress and anxiety through journaling, you have time to feel better and consequently to heal from past and current affairs.
Journaling can be very therapeutic not to say that it is not at times hard and confrontational but because of its opportunityof allowing yourself to – as we've seen – decompress, plan, reflect, express, and create.
As soon as you don't feel well, you can turn to your journal and let all of it out – with abandon and no filter and no hold backs. It will help you work through the emotions through the motions of writing and dumping.
Journaling will help you connect with yourself instead of alienating yourself from what you feel and think even in moment of great mental and emotional distress.
Writing down fears, anxieties, insecurities, or reversely, writing down good, healthy habits you want to embody will help you in your mental-health journey.
You can heal from the bad and work on the good with your journal to hold you responsible, accountable, without the judgement of prying eyes.
Self-acceptance is a big part of journaling or else growth wouldn't be able occur. When we grow, we feel mentally and emotionally better.
You can let go of negative emotions, thoughts, and the likes. You can clear your mind and heart from the struggles you are faced/facing.
Journaling can help with your cognitive behaviour and therefore, and shift your perspective as well as your reactions to recurring problems.
Additionally, journaling helps as writing down the things you feel grateful and accomplished throughout your day or doing the very bad days.
---
Favourite Journals
Here are some of my favourite journals. You have the regular journals for daily writings and you have guided journals to help you set intentions or to help inspire in what to write.
Guided and/or Thematic Journals:
Regular Journals:
---
I hope you learned the 5 benefits of journaling for you mental health!
Let me know why do you journal? How does journaling make you feel? Which journals do you use?