This post may contain affiliate links, which means I'll receive a commission if you purchase through my links, at no extra cost to you. Please read my full disclosure for more information.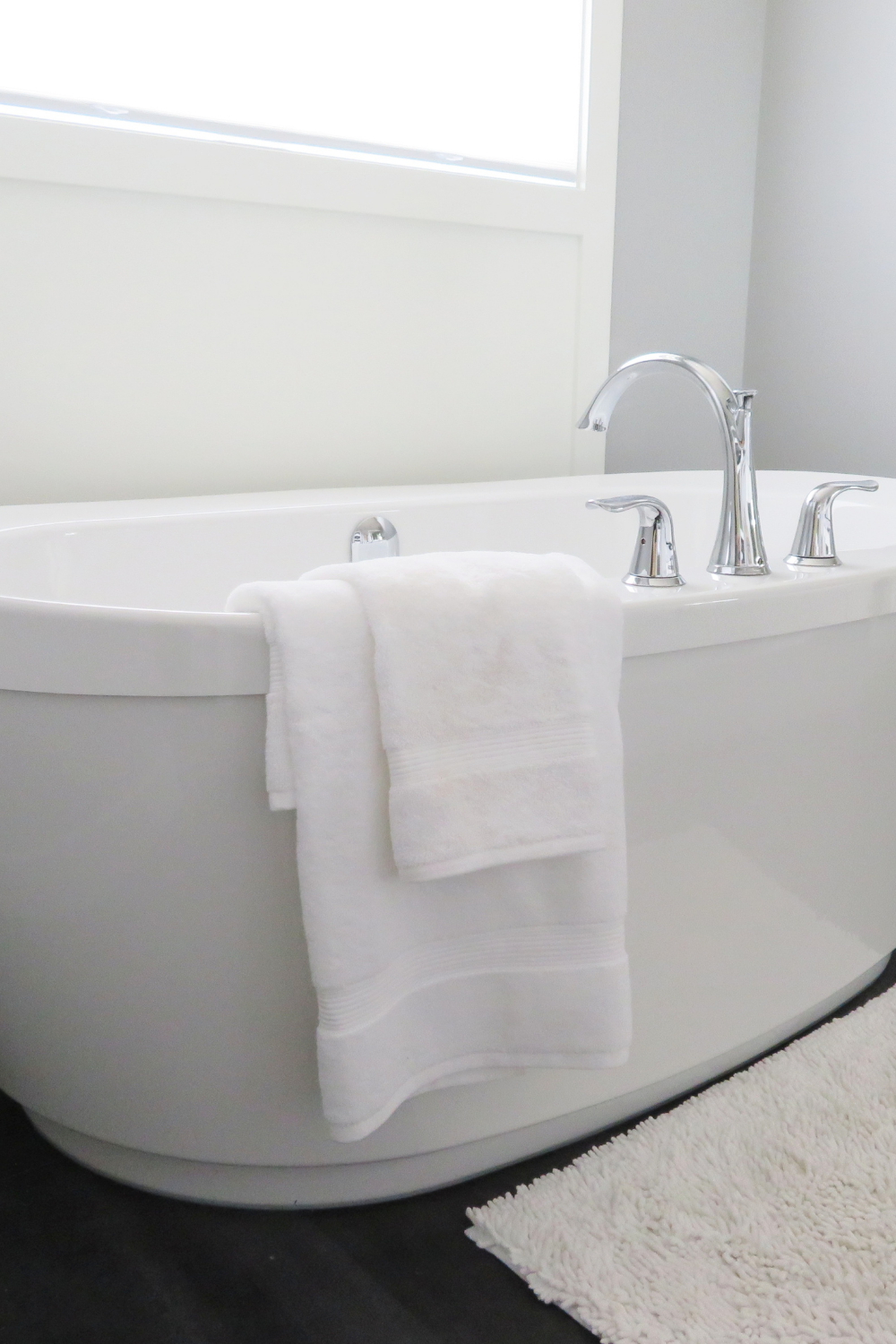 Nothing is more disheartening than staring at a bathtub full of grease, bacteria, and deep build up stains.
Every year, my dad endeavours to clean the bathtub but eventually becomes tired and fed up from the task.
This year, he found great techniques to clean the bathtub using chemicals we had at home combined with tools and materials he found online.
His methods helped him 1) save time 2) save energy and 3) get rid of stains he wouldn't have otherwise.
He was able to clean not only the big stains and surfaces of the bathtub but as well as the brown crusty buildup around the jets and the faucets!
My mom and I were amazed at the job. And I thought to myself, I need to write about this! I could save others so much time and energy with their own bathtub cleaning!
My dad, ever so kind, allowed me to take pictures as I watched and helped him in the cleaning process.
Listed below are the chemicals, materials, and tools that he used. As well as the steps he took to clean the bathtub's big surface stains as well as the smaller brownish stains around the jets and faucets.
---
Materials and Tools
Drill Brush, Power Scrubber Cleaning Brush Attachment
Dremel Versa Power Scrubber Cordless
Optional
Drill Brush and Scrub Pads 37 pcs Power Scrubber Cleaning Kit
---
Chemicals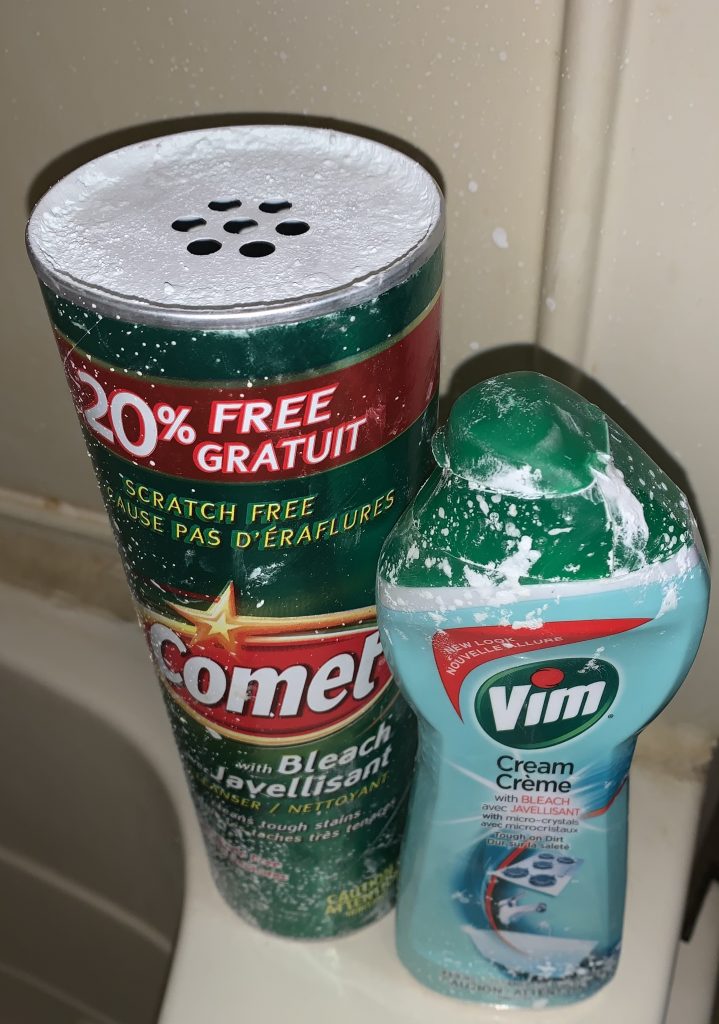 ---
For big surfaces and corners
Step 1
We attached the drill brush to our cordless drill.
There are different drill brushes out there.
My dad liked the bigger set of the drill brush and scrubs pads of 37 pieces (linked & shown above) and regrets not buying it. He says that it would have saved him even more time. But the smaller drill brush power scrubber set that he used did the job too.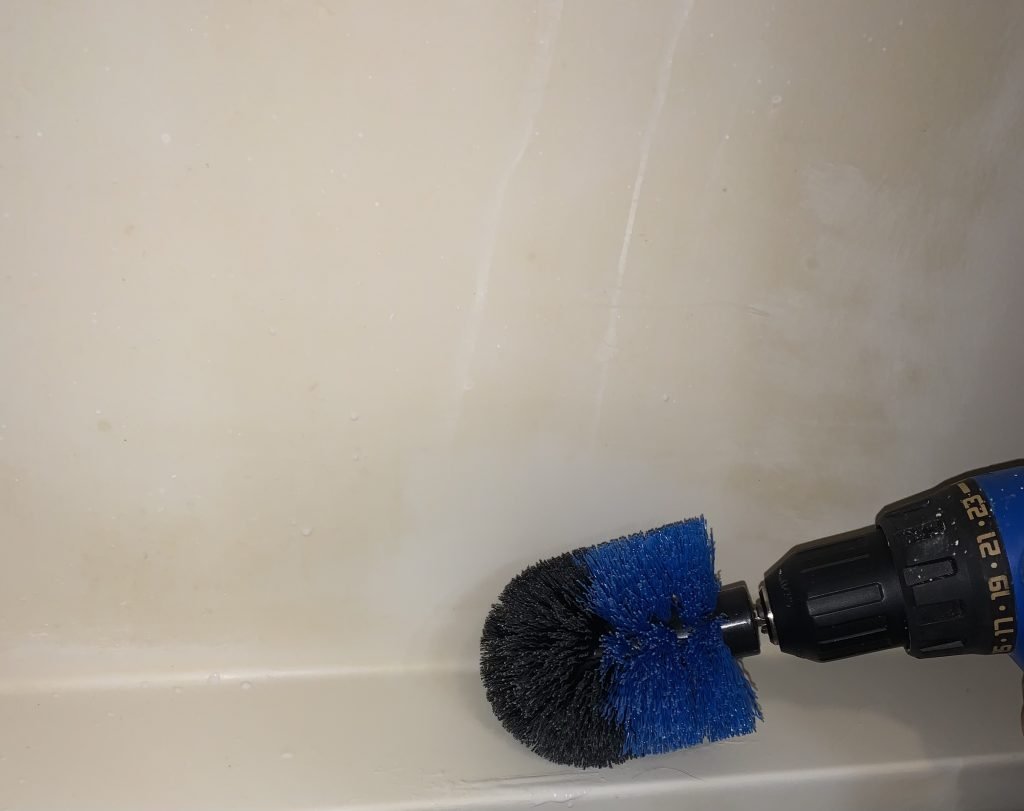 Step 2
Then, we mixed the Comet bleach powder with the Vim cream bleach together with a little water in a little corner of the bathtub. We combined the two in order to obtain maximum cleaning effect.
In all honesty, I've seen both my parents use Comet and Vim my whole life to clean stains – and you know what, its cheap but it works like a charm.
Then, you dip in your brush into this chemical mixture.
Step 3
After attaching the drill brush to the cordless drill, and dipping it into the chemicals; my dad used the drill brush to scrub the stains out.
You can see the 'before' and 'after' in the picture below: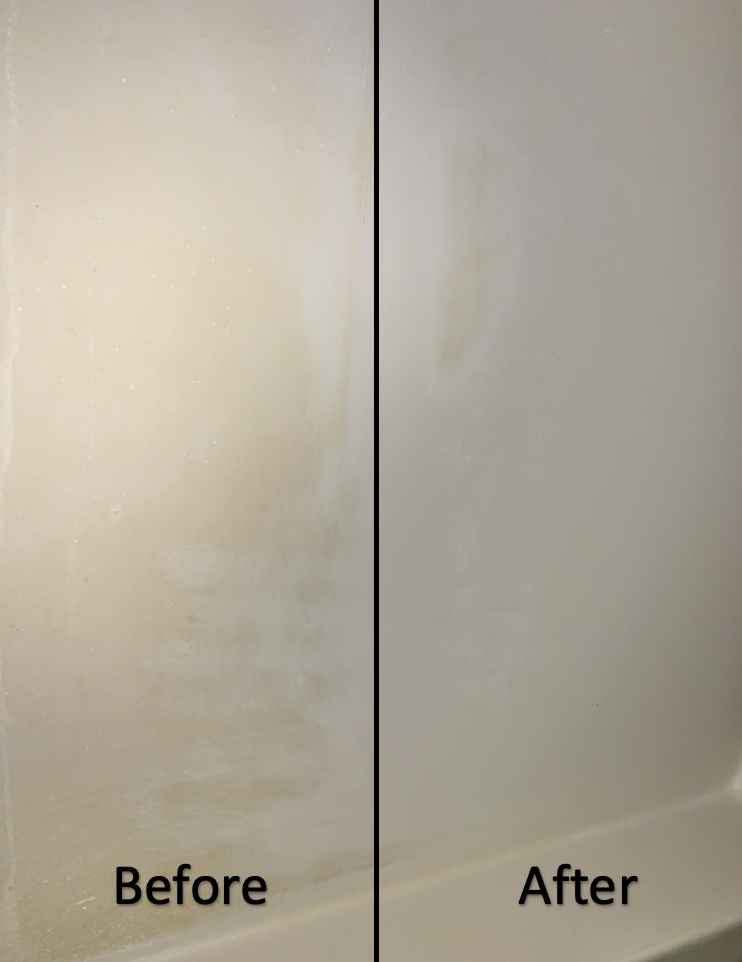 The now white surface areas (right side of the photo) have been scrubbed by the drill brush. That is an insane difference to the yellow stains and colouring seen on the left.

The drill brush alternative does an easy and painless job as opposed to scrubbing all of these big stains manually and frantically by hand.
You save both your time and energy!
Summary
Attach the drill brush to your cordless drill
Add Vim and Comet chemicals and mix together with water in an area of the bathtub
Dip in your now attached drill brush into the chemicals
Use on surface stains
For small surfaces and corners
For small corners and surfaces, around the edges of the jets and faucets my dad used a second tool he bought.
He bought the Dremel Versa Power Scrubber. This cordless cleaning tool comes with an USB charger and includes a small brush, as well as scratch pads, and a splash guard.
He highly recommends this tool set and I am pretty sure it is his new best friend.
It is also a very convenient tool as it stores well because it is quite small and super handy.
Step 1
We attached one of the flat scrub pads to the Dremel Versa machine
Step 2
Add the Vim bleach cream and then the Comet bleach powder on top of the flat scrub pad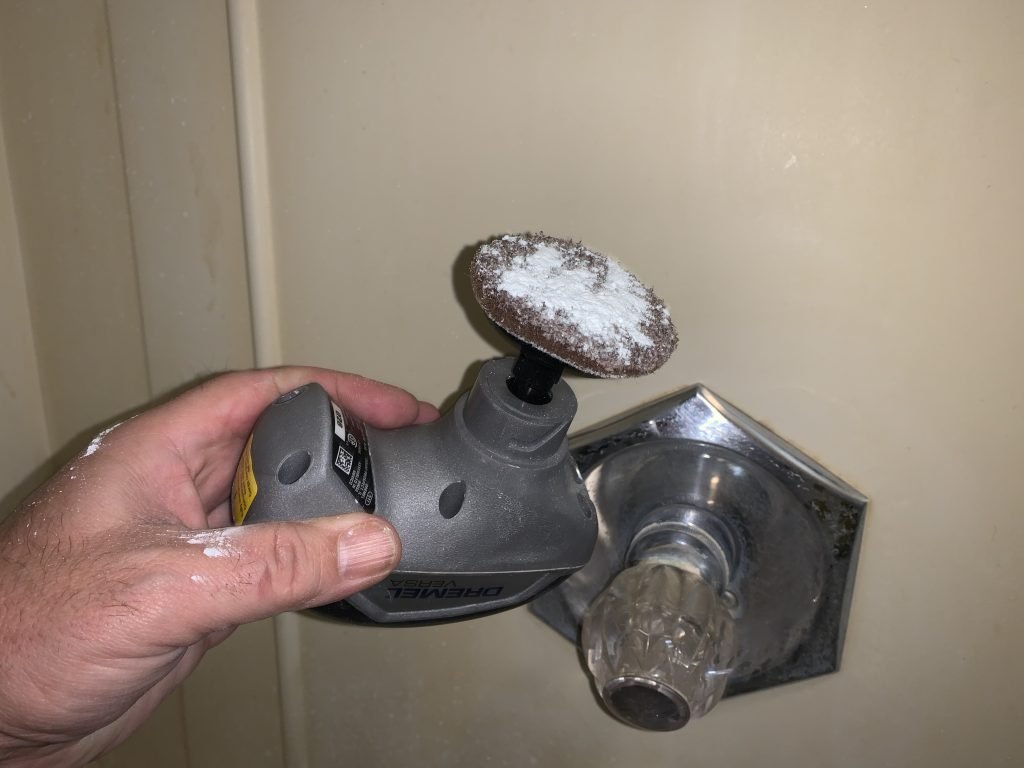 Step 3
Turn on the Dremel and scrub your corners clean
In the photos below, you can see the brownish stains of the faucet before (first image) and consequently after (second image) it's been scrubbed with the Dremel.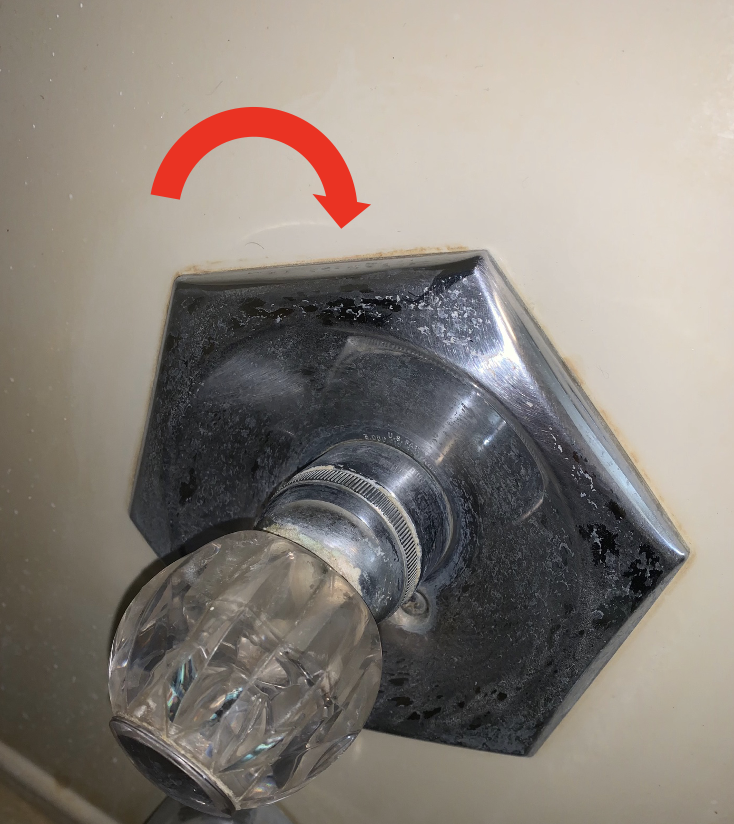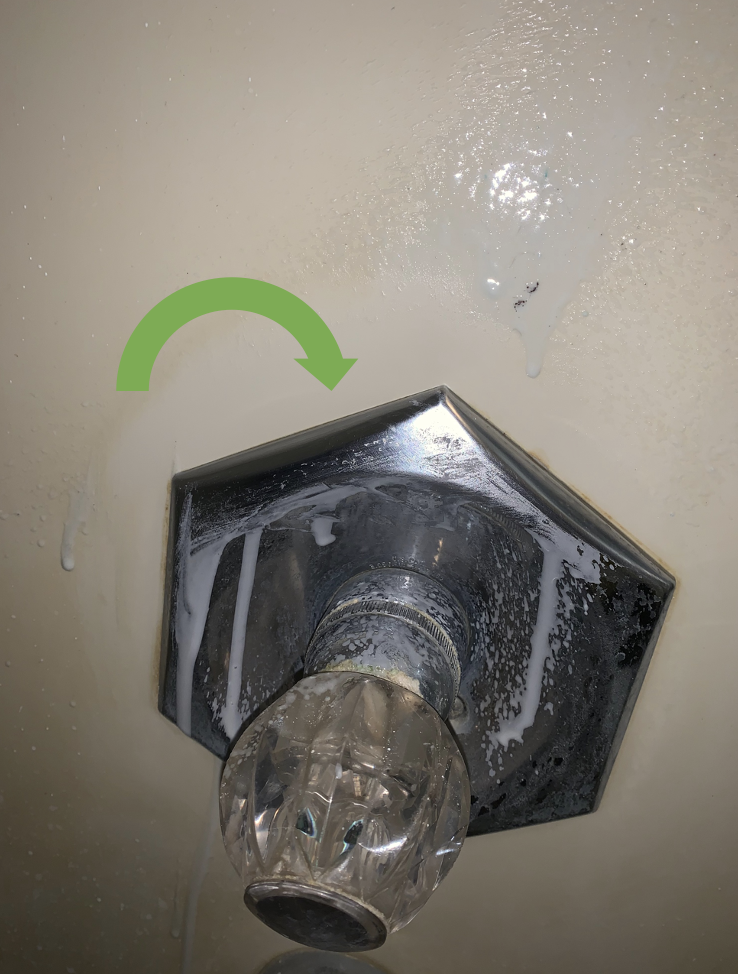 The Dremel Versa does a really good job at cleaning the small surfaces and corners of the faucets and jets.
I unfortunately only have an after photo of the cleaned jets, but as you can see; it also works like a charm for bathtub jets.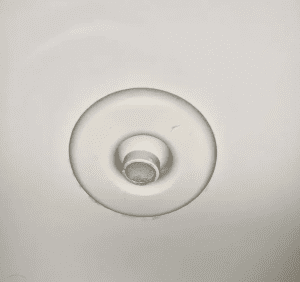 ---
I hope you enjoyed this post on how to clean your bathtub from deep stains. Feel free to leave your own tips and tricks, as well as the tools and materials you used down below.
Cleaning the bathtub can be an arduous, painful, and frustrating task. That's why I decided to write this post to help you save time (and energy) and also, to help you successfully clean your bathtub's deep stains.
I hope this post helped you and let me know if you want more cleaning tips and tricks for the home!
Enjoy the post? Save Pin for later!