This post may contain affiliate links, which means I'll receive a commission if you purchase through my links, at no extra cost to you. Please read my full disclosure for more information.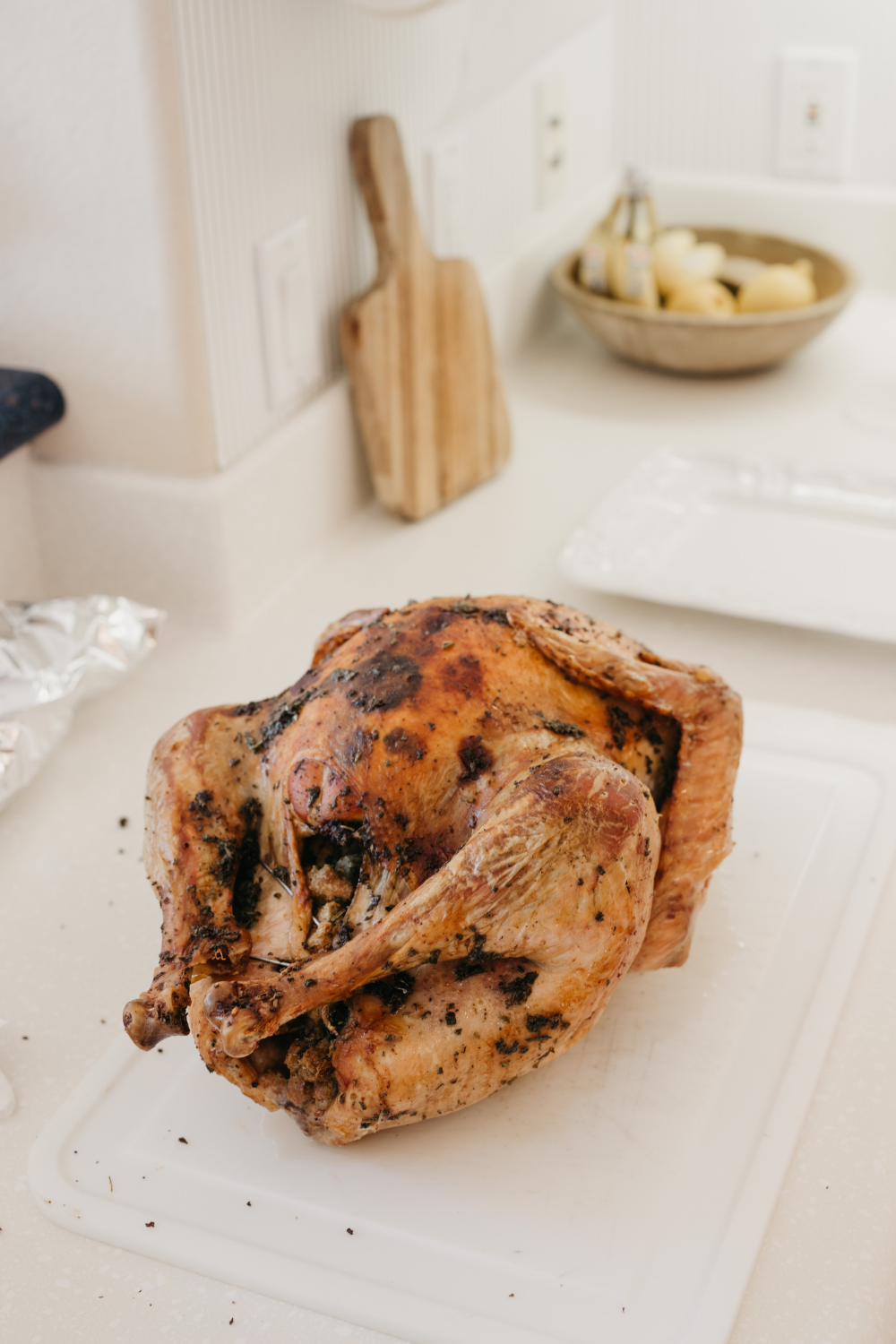 Cooking your first turkey in the oven can seem like a daunting task. However, when it comes down to it, the steps are quite simple.
In this blog post, I list the materials and ingredients I used as well as the steps and the time it took me in order to cook a delicious turkey for dinner, and stress-free! 🦃
Before following these steps, make sure your turkey is thawed! As in defrosted if it sat in the freezer. I normally transfer my turkey in the fridge a full 24-hour before cooking!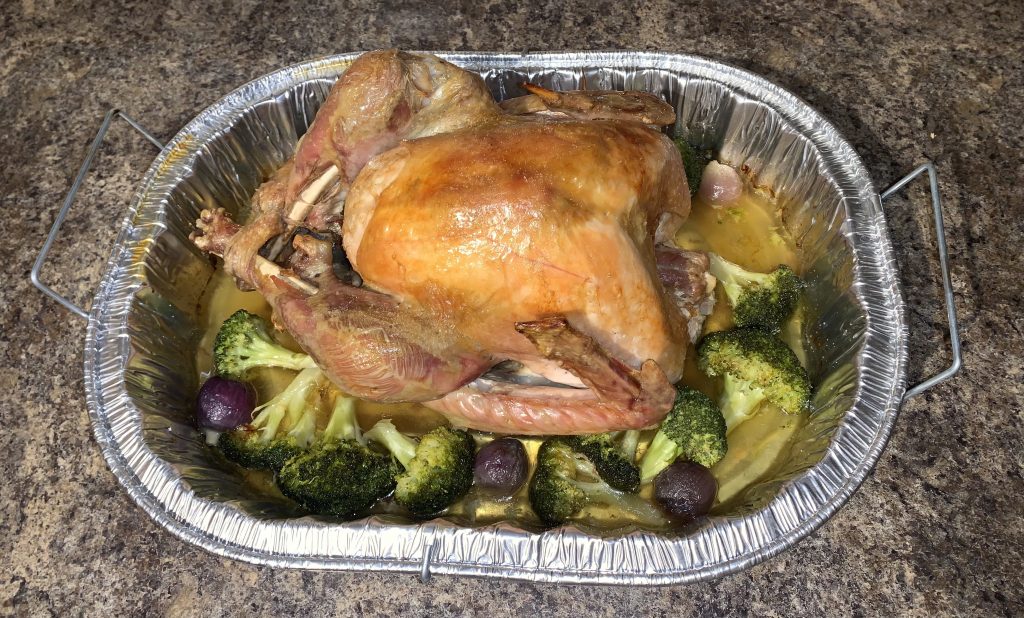 ---
Time
As a good rule of thumb, your turkey should approximately cook corresponding to its weight. For ever kilo, there is an hour of cooking.
E.g., 4kg turkey = 4 hours of cooking
Cautiously, you should always try to follow – or at least read – the instructions on the encasing of your turkey (provided that there is any).
My turkey was around 5kg and I let it cook for 4h30 minutes. And, I could have left it in a little longer but it was already cooked, juicy in the inside and crisp on the outside. (I'm not a food critic, maybe one day!)
Additionally, if you are stuffing your turkey, it will take you longer to cook, up to a half hour to an hour, depending on your preferences.
(I generally like my vegetables and other stuffings cooked but not soft, a bit hard and crunchy in order for it to have all of its nutrients and not have everything melted into the turkey juice.)
---
Materials
Optional
---
Ingredients
Whole uncooked turkey
Grounded pink salt and pepper
Olive oil or butter
Optional
---
Recipe
Step 1
Preheat your oven to 375F
Step 2
Remove your turkey from its outer encasing
Then fish out the giblets "insides" of the turkey, this includes the heart, neck, liver, and gizzard (the thick part of the stomach)
You can choose to cook the heart, liver, and neck, but make sure to rinse them first

I cooked mine inside the aluminum tray on the side of the turkey, solely for my dad who likes to eat those parts
Apparently, they are really good – especially when cooked along with the turkey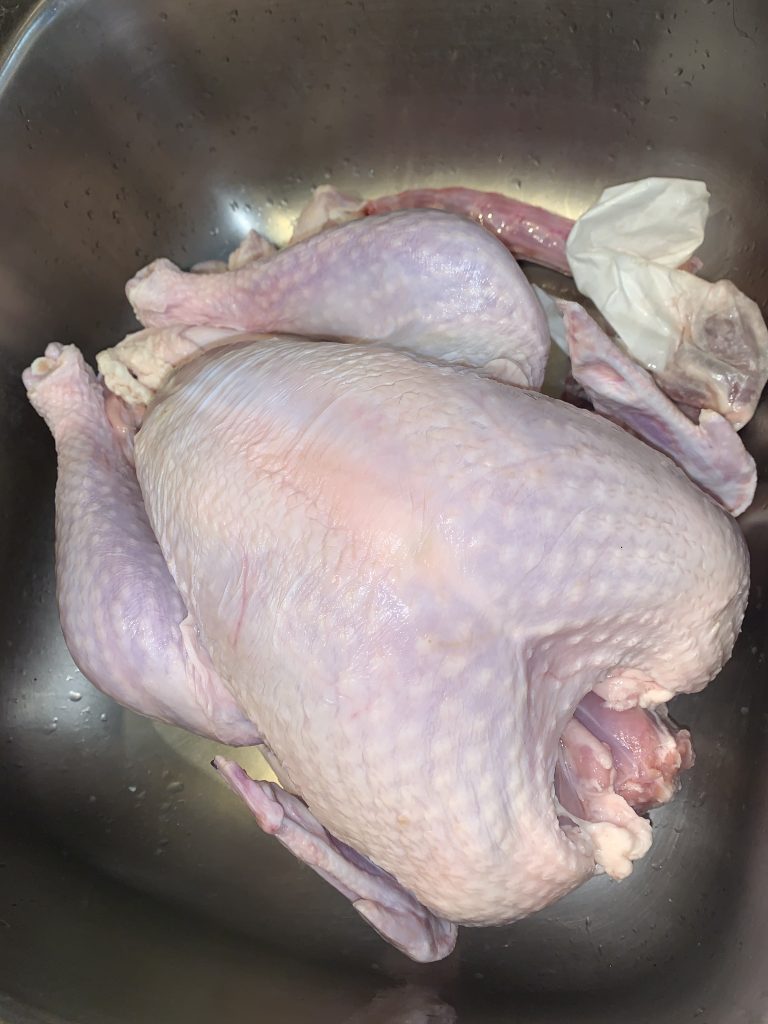 Step 3
Add your turkey to the large cooking aluminium tray
Step 4
Marinate your turkey!

Add grounded pink salt and pepper
Grease the outside of your turkey with olive oil or butter
Optional
Stuff the insides of your turkey!

You can clean the skin of fresh onions and garlic inside your turkey

If you do any other type of traditional stuffing, beware that you'd have to cook the turkey for longer and at a lower temperature
Step 5
Put your turkey into the oven
Keep an occasional eye on it
Step 6
After 4 hours of cooking, I took out the turkey
With a turkey baster, I dispensed the juices all over the turkey
Then, I chopped some raw broccoli stems and heads and added it into the juice

I also cleaned and chopped some whole raw red onions

I put the turkey back in for 30 minutes, changing the cooking temperature slightly to 400F
Then after the half an hour, my turkey was ready to serve and my broccoli & my red onions were cooked too
---
I hope you enjoyed this easy stress-free way of cooking your turkey. With cooking a turkey, there are a few variants according to taste as well as preferences to stuffing or not stuffing. But generally, this is the easiest way to go about regardless of what you choose to do!
Do you have too much leftover turkey?
Did you know that with my leftover turkey, I made a separate recipe?
With my turkey leftovers (there was quite a lot 1.5kg left!), I made a traditional Persian dish.
I made a delicious walnut-pomegranate stew called fesenjan. You can make this stew using leftover chicken as well. You can follow that recipe here.
Like the post? Save Pin for later!