This post may contain affiliate links, which means I'll receive a commission if you purchase through my links, at no extra cost to you. Please read my full disclosure for more information.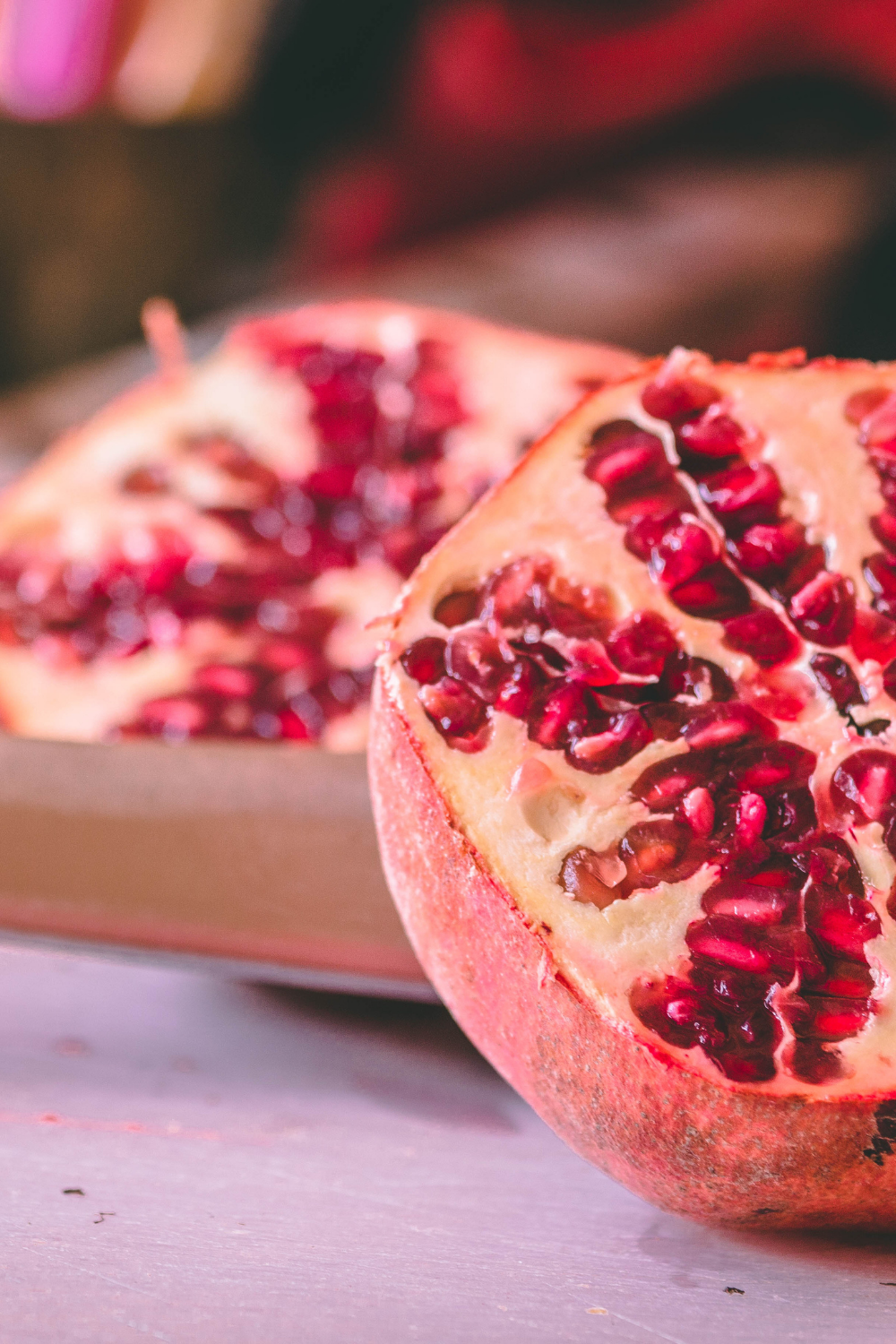 I love traditional Persian dishes as my mother is Persian-Iranian. But yet, the task seems quite daunting to me as most of the Persian traditional recipes can seem complex and time consuming. However, they are worth it as they are also lavish and super-duper delicious, mouth-watering, aroma filled, recipes.
I am not exaggerating! It is seriously a luxury when someone personally cooks this dish for you (more on that later.)
Safe to say, I absolutely LOVE my mother's walnut-pomegranate stew (also known as fesenjan or fesenjoon.) So I had to learn how to make it.
Lately, I have been challenging myself to learn how to cook diverse recipes and adapting them into the healthiest way I can AND as well as making step-by-step easy and concise recipes for myself and for others.
In this post, I will list all the different time(s) it took to cook, the materials and ingredients used, as well as the steps to preparing and cooking the Persian walnut-pomegranate stew (fesenjan.)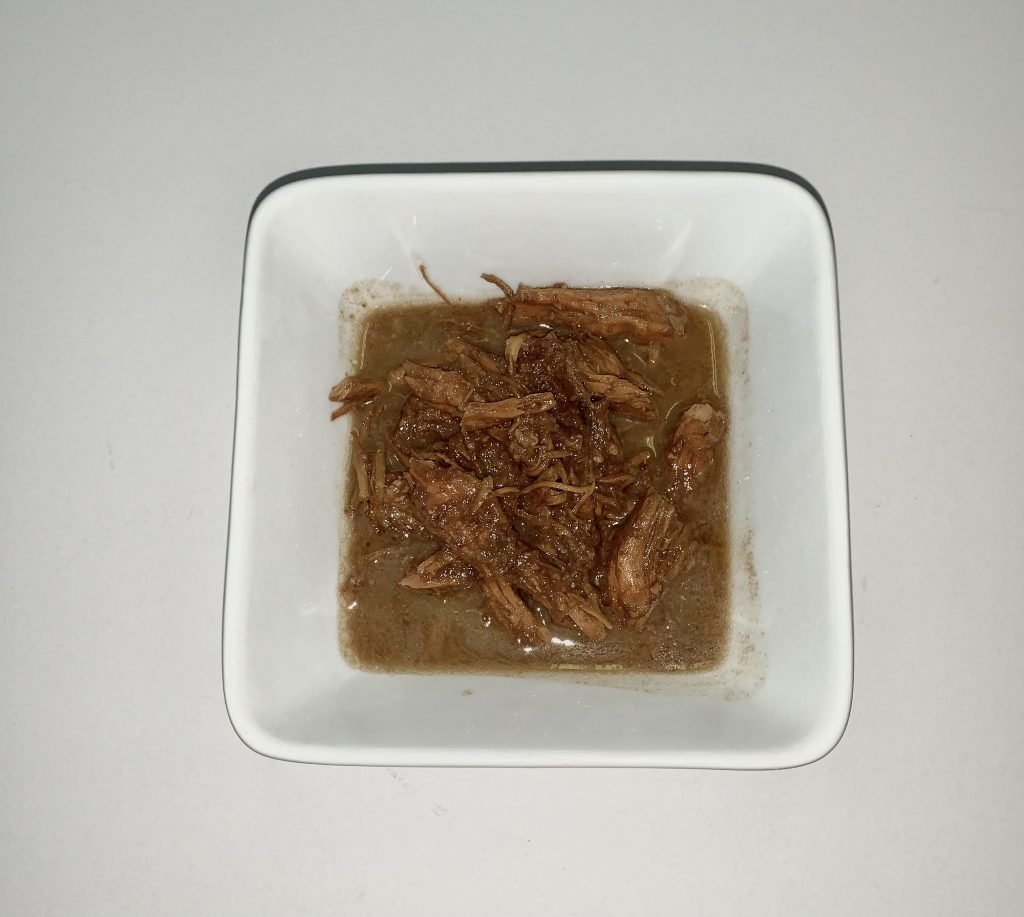 Cute side note:
'Joon' means 'love' and so when you really love and appreciate someone in the Persian culture, you cook this meal for them because it takes a long time to cook. It represents lasting love and the desire to make the other person happy through the cooking of this long but sweet and delicious stew. 🥺❤️
P.S.: The traditional-traditional recipe takes even longer to cook, almost lasting all day long.
---
Materials
For the walnut-pomegranate stew
---
Ingredients
Optional (Served with…)
Basmati rice
Salad
Vegetables
---
Time
The walnut-pomegranate stew itself:
10-15 min to grind and fry the walnut for the stew
3 hours total time to actually cook the walnut-pomegranate stew
During the cooking of the walnut-pomegranate stew:
30 min to prepare and cook your protein or its substitute
10-15 min to prepare and/or cook your side of salad, rice, vegetable, etc (Step not included but mentioned)
Total time:
---
Recipe
Step 1
Pour 400g of walnuts into a bowl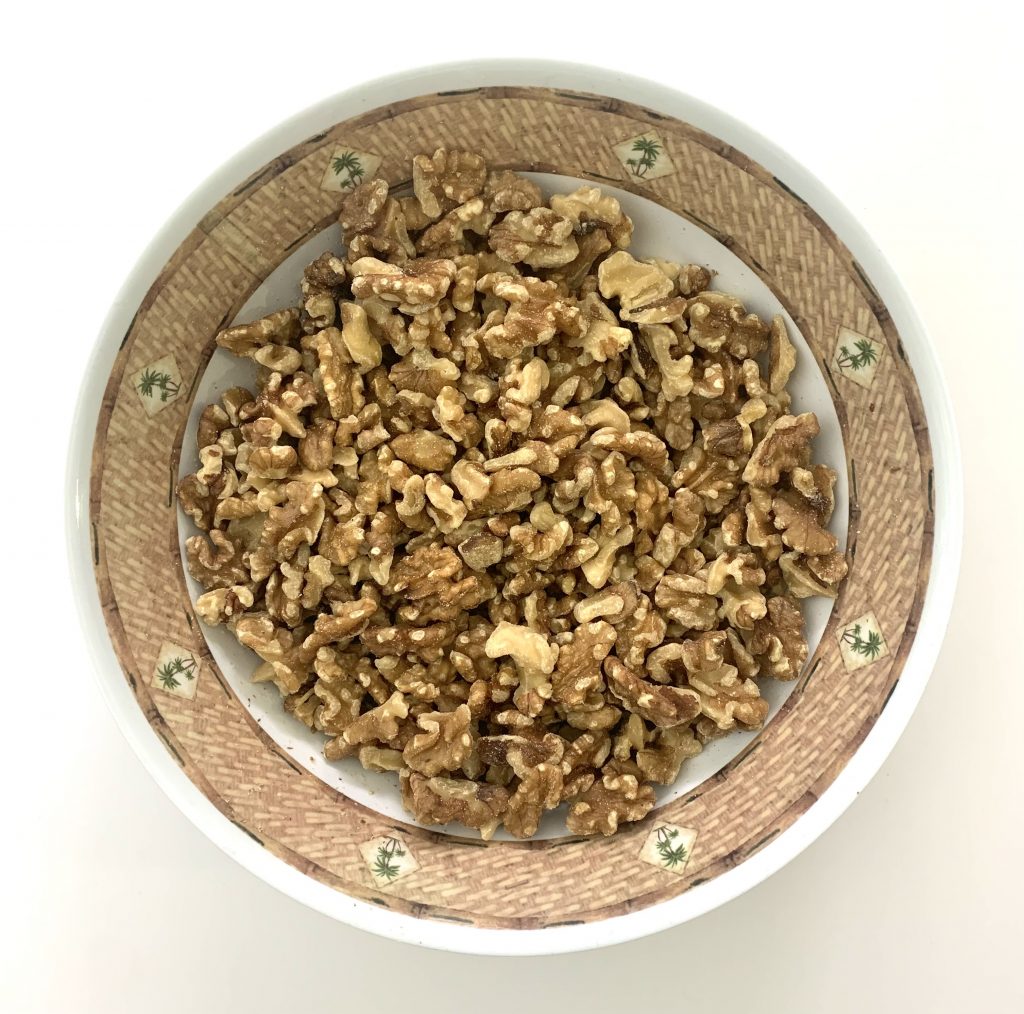 Step 2
Grinding time: 10 minutes
Inside an electric food chopper pour and grind all of your walnuts finely

This might take you 2-3 grinding trips and up to 10 minutes depending on your electric food chopper

As much as you can, grind the walnuts fine

Do not have any big pieces, everything should be fine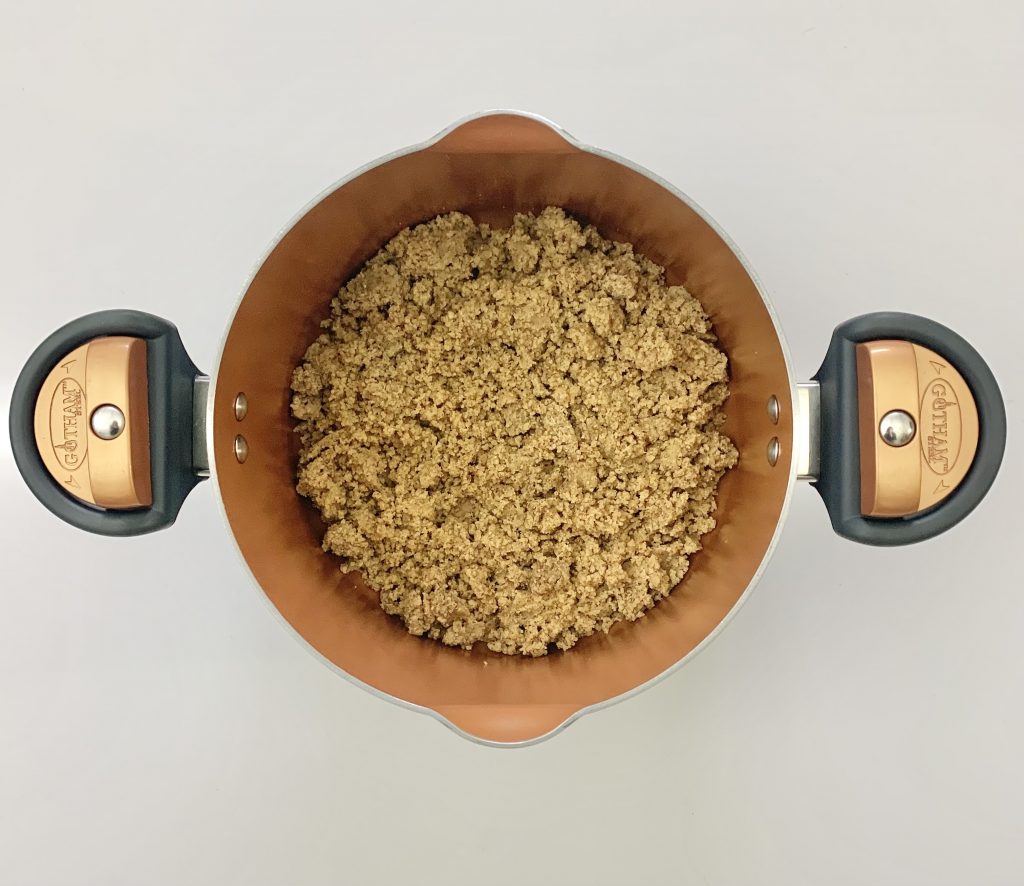 Step 3
Frying time: not more than 5 minutes
Step 3.1
Transfer your fine walnut into a dry large pan or a dry large cooking pot

Do not add any oil whatsoever, hence the use of the term "dry"

The walnut has enough oil itself especially when grounded fine
You will notice it has become a bit more oily and sticky somewhat pasty

Now be CAREFUL as you fry the fine walnut (in its natural oil) in your pan/pot

Fry it on extremely low temperature using a wooden spoon for constant stirring
DO NOT fry it on high
DO NOT leave the stove, you cannot leave during the frying step
YOU NEED to keep a watchful eye

Or else my Persian mother will come find you and scowl at you! (Just kidding, or am I?)

Anyway, KEEP stirring the whole time!
Step 3.2
Fry until the walnut takes on a caramel-like colour

It has to have a little bit more colour than before but NOT burned

If you burn the walnut at this step; the whole recipe is ruined, the taste will be ruined
It should become a little bit more dry after frying
Plus, you should have a nice delicious aroma of walnut (not burnt) which is another key telling you you've fried it correctly
Step 3.3
After fried, take your pan off the stove island you fried on just to make sure the heat is not continuing to fry or turn off your stove
This step took us approximately 5 minutes on low heat of '2' on our oven stove top
Step 4
Cooking time: 1 hour
Now this step involves cooking your walnut
Pour 750mL of cold water into your pot with the now-fried walnut

If you used a pan to fry, transfer the contents into a large pot

Using your wooden spoon, mix and stir the walnut and water well

Stir for a few minutes just to make sure that the walnut starts to dissolve and becomes soft

The grounded fine walnut should become softer as it dissolves into the stew through the long cooking

Close the lid of your pot to let it cook
Cook it on the lowest setting!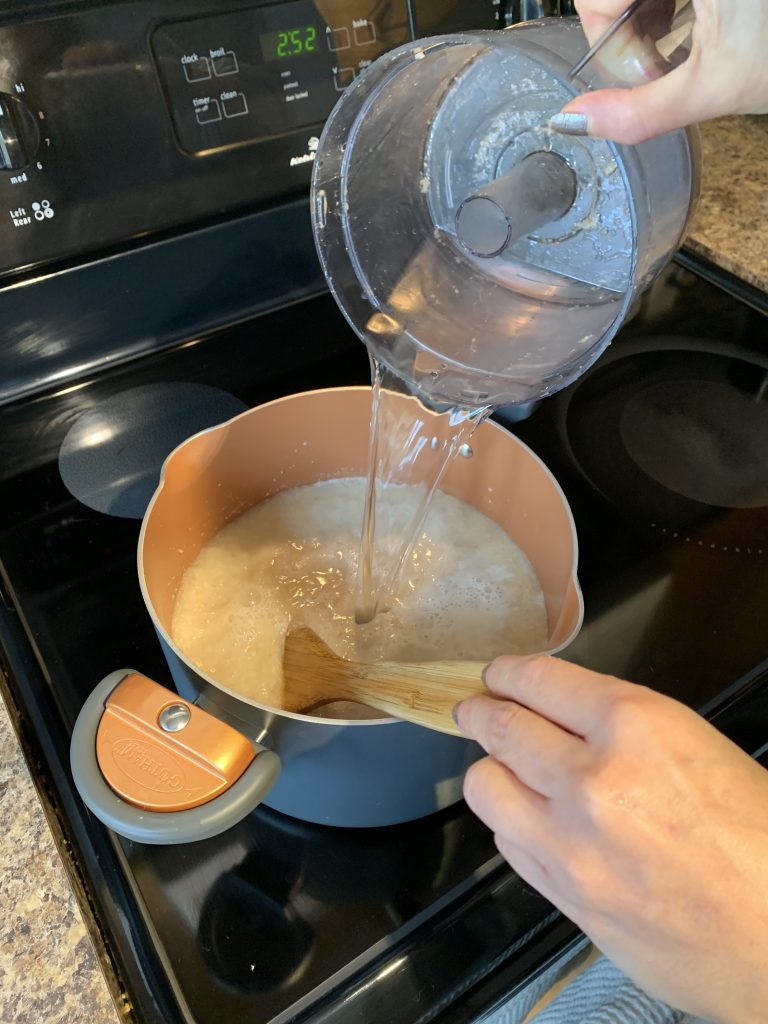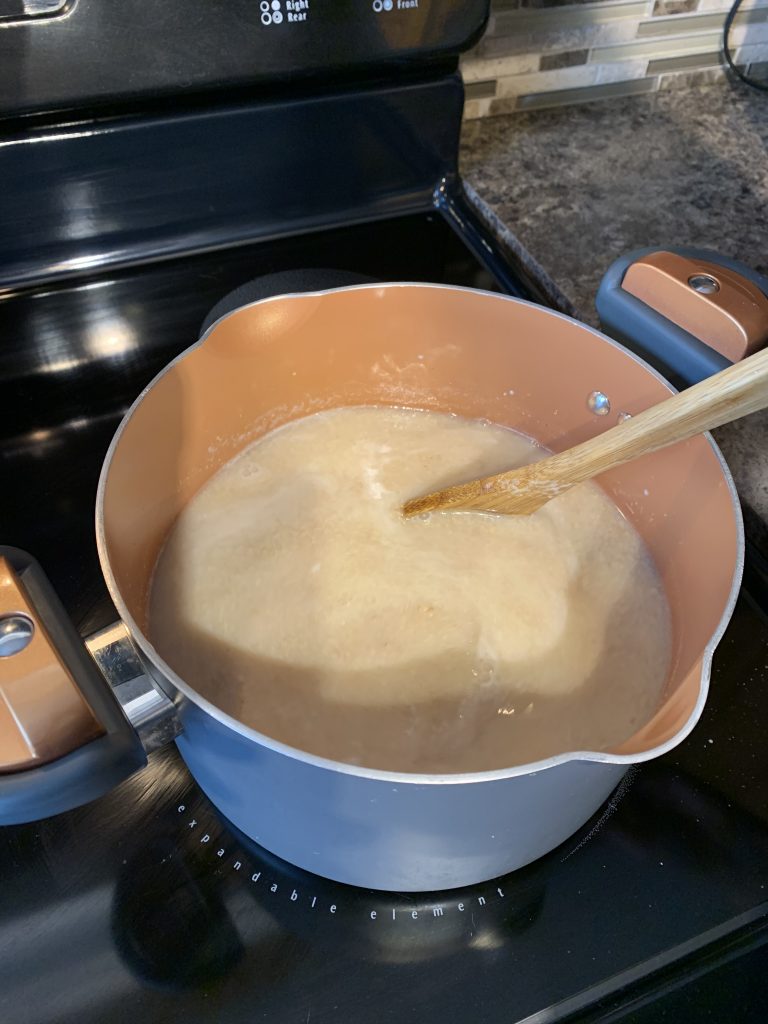 Step 5 (In the meanwhile)
Cooking the protein: 30 minutes
While you wait for the walnut to cook into the water, you can cook your meat.
You can use duck, chicken, turkey or if you want any other substitute.
Other options could be ground beef, tofu, shiitake mushrooms, and/or vegetables.
But I am warning you that this dish is primarily cooked with those three type of meats and uses their cooking juices to add to the walnut-pomegranate stew for maximum taste and consistency.
For this recipe, we already had a massive amount of leftover turkey from our turkey dinner. You can see that recipe for our turkey here.
So for our recipe we used 1kg of leftover cooked turkey as well as the leftover cooked turkey juice my mom saved which was around 400mL.
Once again: The juice of the meat is what adds to the taste and consistency to the walnut-pomegranate stew.
So whatever you end up cooking, keep the juices to later add into the stew.
Normally we cook chicken breast to add to the stew, here's the quick recipe for that:
Clean and cut 2 large white onions

Fry in olive oil or butter or coconut oil

Add 1 kg chicken breast in a cooking pot
Add 2 cups of water, or 500mL
Let everything cook for 30 minutes
Step 6
At the one hour cooking mark, you add your protein (or its substitute) with its juices as well as your glass juice of pomegranate molasses: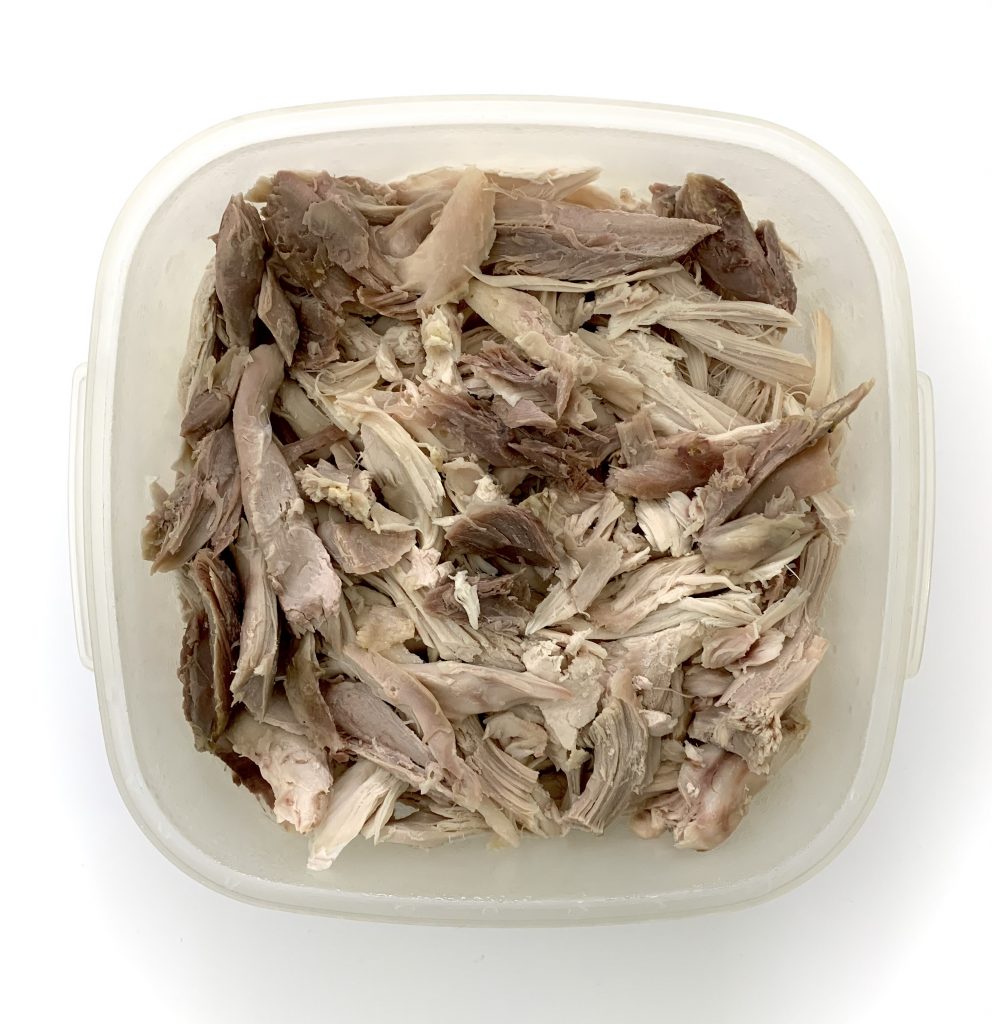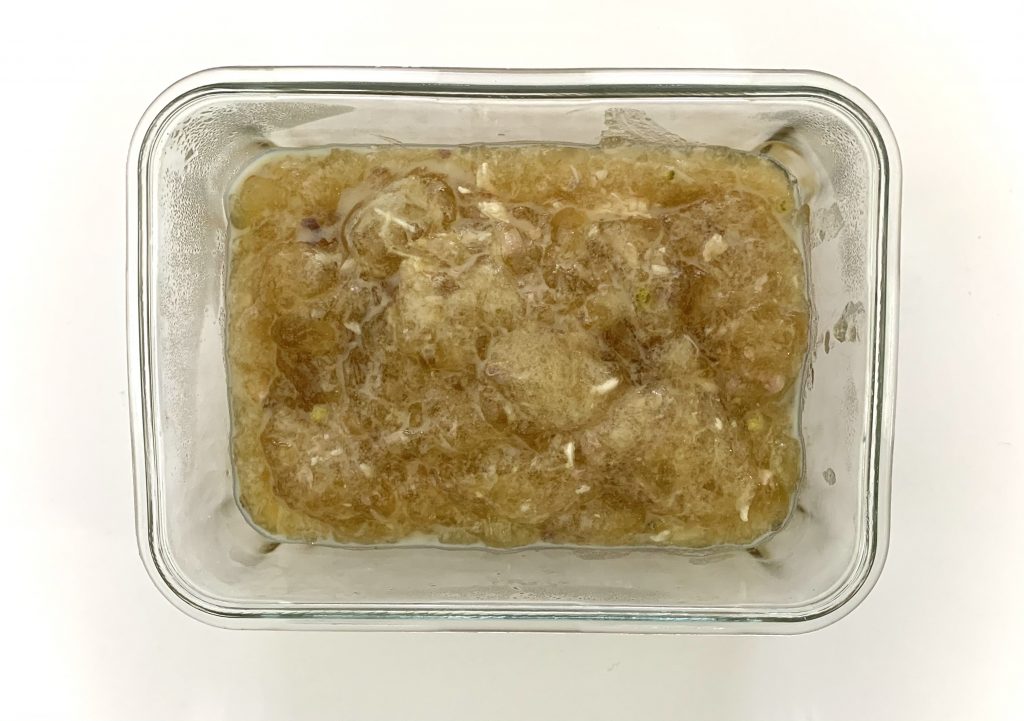 Add to your cooked walnut stew

1kg cooked protein (or its substitute)
The juice from your protein (or its substitute)
The protein juice as well as the juice of pomegranate molasses will add consistency and maximum flavours, making the stew a balanced mixture of sweet, sour, and salt.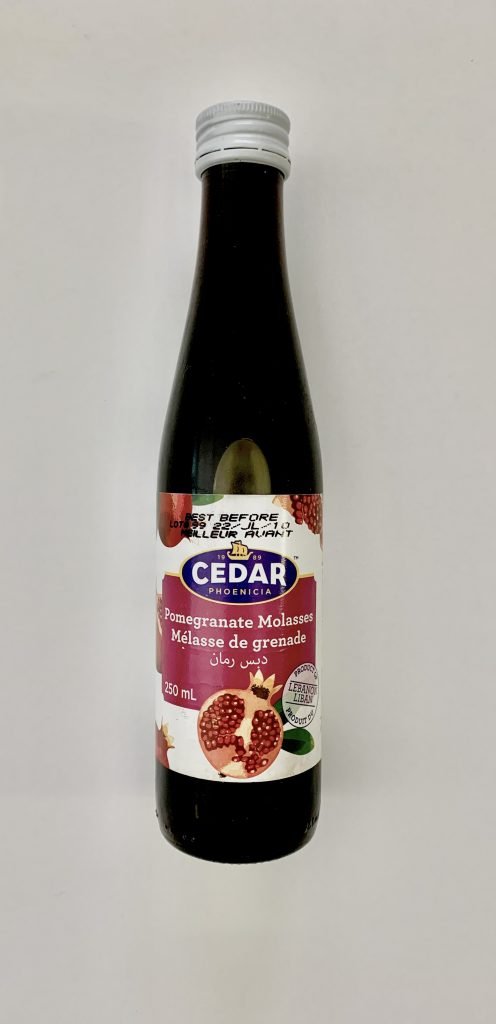 Step 7
Cooking time: 1 more hour
Cumulative stew time: 2 hours
Let the pomegranate-walnut stew now with the protein and juices cook for another hour
Step 8
Cooking time: 30 more minutes
Cumulative stew time: 2.5 hours
Let the pomegranate-walnut stew now with the protein and juices cook for another half hour
At this point, you can start seeing the oil rising (from the walnut and protein) in the stew
You can see the water of the stew coagulating and starting to become thicker with the help of the pomegranate molasses juice
You can taste and add

1 teaspoon of pink salt
A pinch, yes a pinch! of grounded powdered saffron
NOTE: Saffron is sold mostly in threads and is an expensive spice. You need to crush it until it is grounded and then into a powder form using a hand mortar and pestle. Make sure you use very little saffron because it is strong and evasive in strong doses but delicious and flavourful in small doses.
LOOK AT IMAGE BELOW TO SEE THE PROCESS: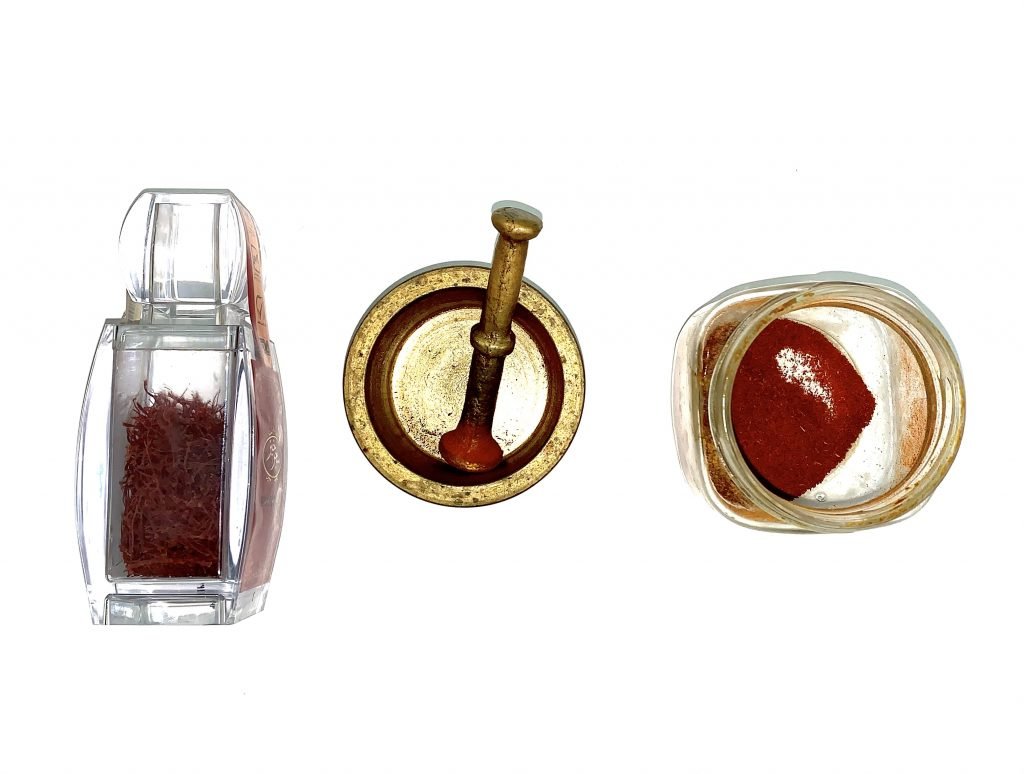 Optional Step (In the meanwhile of the last half hour of cooking the stew)
You can serve the pomegranate-walnut stew (fesenjoon) traditionally with basmati white rice or if you do not want that you can serve it with salad or cooked vegetables.
This takes up to 10 to 30 minutes depending on your choice of side.
We serve it always with basmati white rice because #Persian.
Step 9
Cooking time: 30 more minutes
Cumulative stew time: 3 hours
After another 30 minutes, your stew should have the oil rising on top (see picture below):
If not you can let it cook on low for longer and taste to see. If there's too much water for your liking, let it cook more and do not add any water.
Finally, serve with your side dish of basmati cooked white rice or alongside cooked vegetables or salad. And voilà!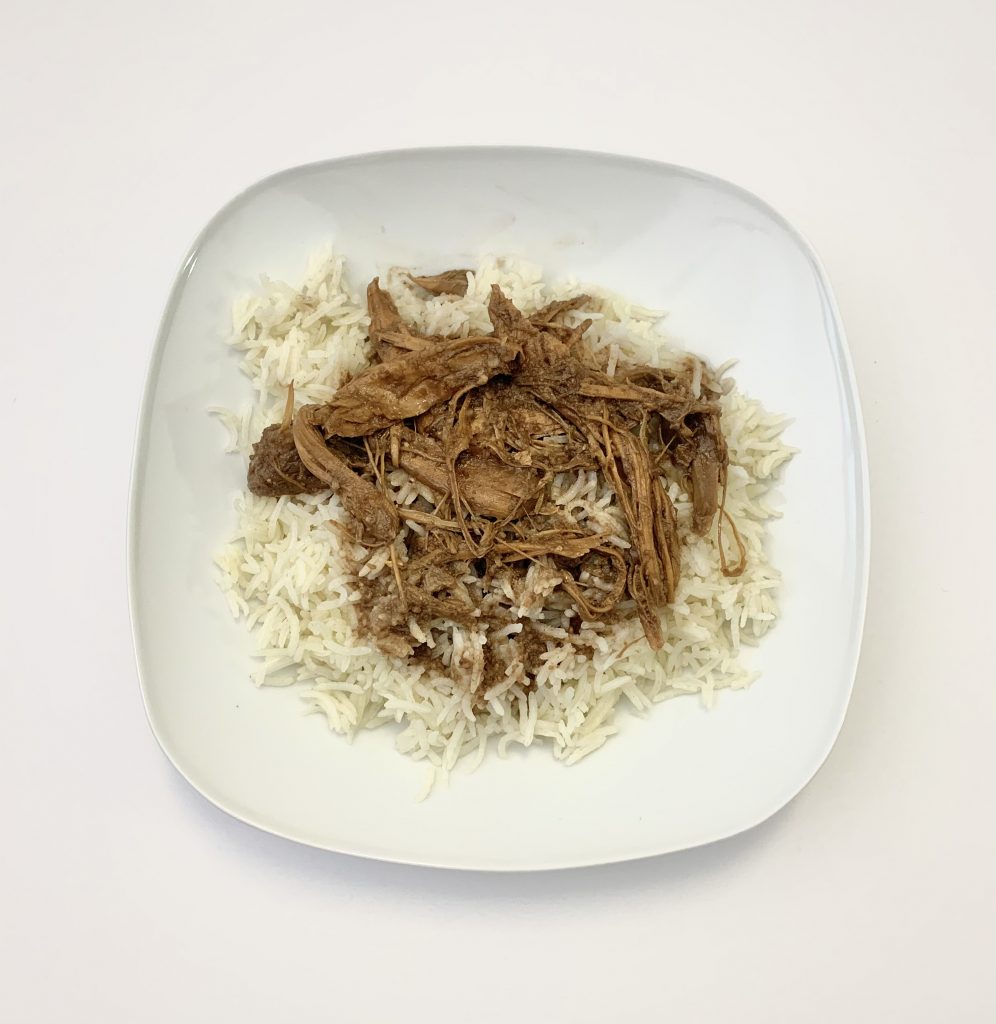 ---
I hope you enjoyed this recipe on how to cook walnut-pomegranate stew (fesenjan). It is one of my absolute favourite traditional Persian dish and one of my favourite dishes in general. It is filled with love, delightful aroma, and mouth watering flavours. I would be interested to know how you cook this dish and/or if you have tried this specific recipe! Also let me know if you would like to see more traditional dishes!