This post may contain affiliate links, which means I'll receive a commission if you purchase through my links, at no extra cost to you. Please read my full disclosure for more information.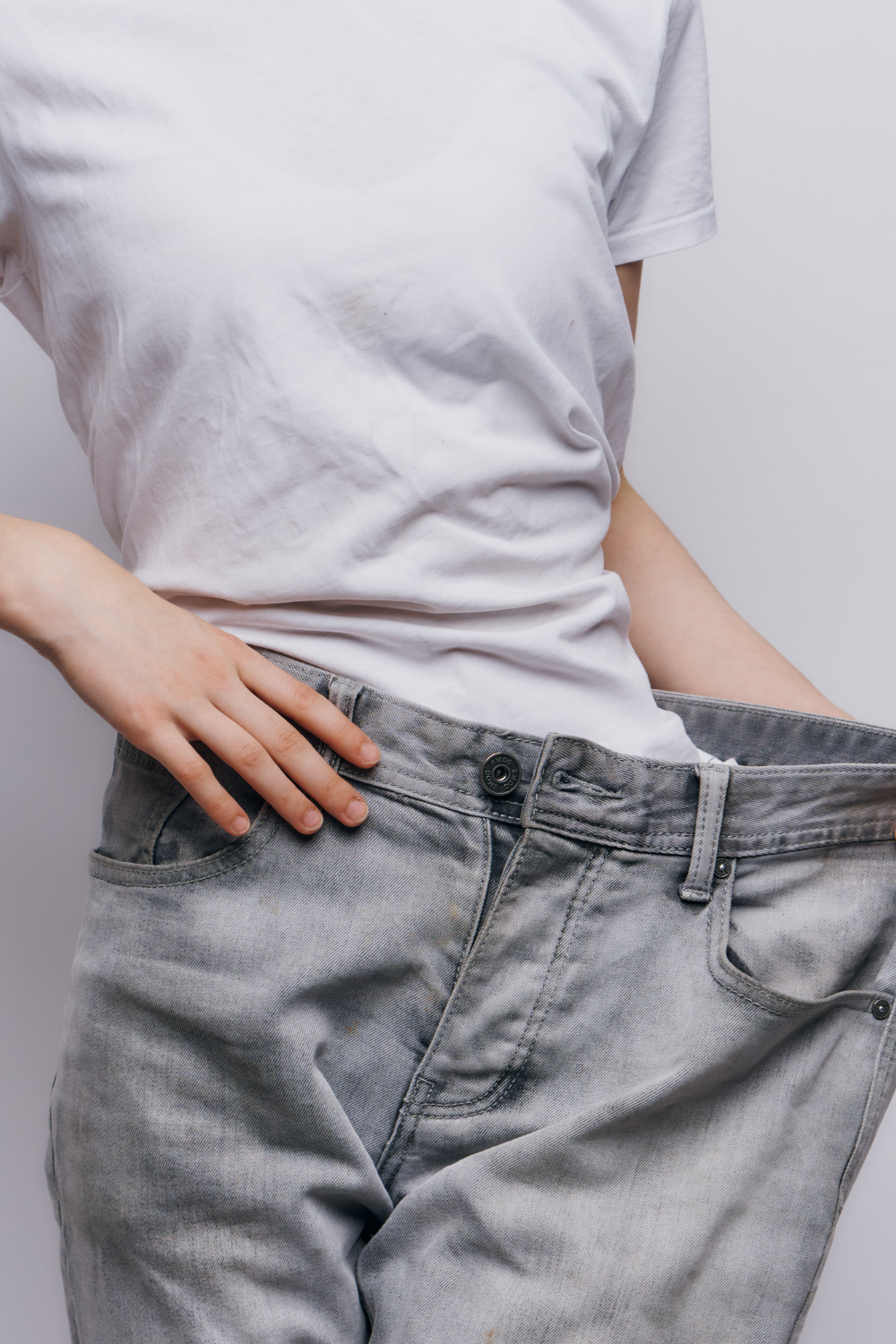 In this post, I share some of the ways as to how I stayed inspired in order to lose weight. I believe that the process of losing weight is not necessarily a linear journey for everyone. This fact is often overlooked.
However, the only way to truly lose weight is to stay consistent and conscious of your daily lifestyle habits. You may want to take a look at my post on the 5 Easy Healthy Habits that Help for Weight Loss.
Hence, in order to stay consistent and conscious, I have combined a list of 15 ways to stay inspired in order to lose weight!
(PLEASE NOTE that these tips are meant to be taken lightly and not intended to trigger or harm any readers. Please be kind to yourself and to your body. Weight loss is not a race or the main goal: getting healthier and happier is.)
---
1. Buy clothes at a lower size
When I am losing weight, I try to not to spend crazy amounts of money shopping for clothes when I know I will get rid of them in a few months time.
What do I do instead? I try on a pair of pants and buy it in a lower size.
Why?
Because it boosts both my confidence and my motivation. I believe in myself enough to know that I will get in better shape to fit into those pants. And that fact alone gets me motivated. 👖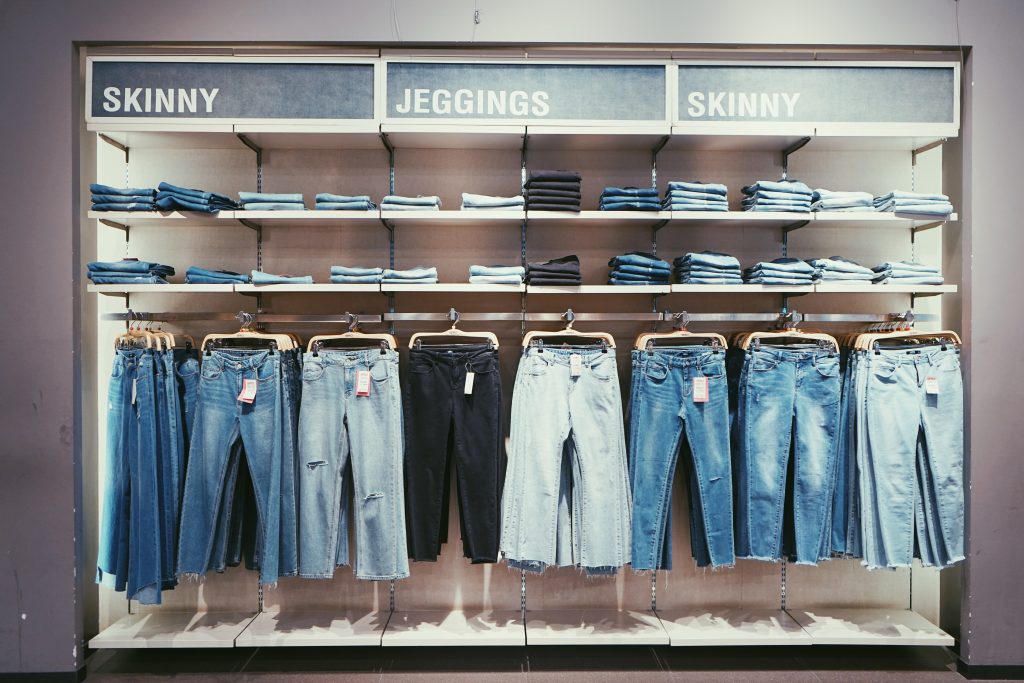 I sometimes do this with tops too. You can buy a summer top at the end of spring and be able to fit into it perfectly by the mid-end of summer!
But for my body type, tops are a bit tricker. It all depends on which body part you're focusing on getting leaner (or bulkier) and on how your body carries weight.
A good way of keeping track would be to implement monthly measurements. This will help you compare your measurements (as well as sizes) when you lose weight from month to month.
2. Refit in old pants
My second way to stay inspired to lose weight involves refitting into old pants. Nothing – for me personally – is more inspiring than putting on my old pants and seeing how much I've changed. Seeing how they don't fit anymore or that they've become more loose.
3. Create a vision board
Another way to stay inspired would be to create a vision board. It is a visual reminder – personal to you – of where you want to be in a few month's time.
Earlier this year I had created a health and a business related digital vision board using the free – and amazing – online digital designing tool Canva.
Here is my [health] board: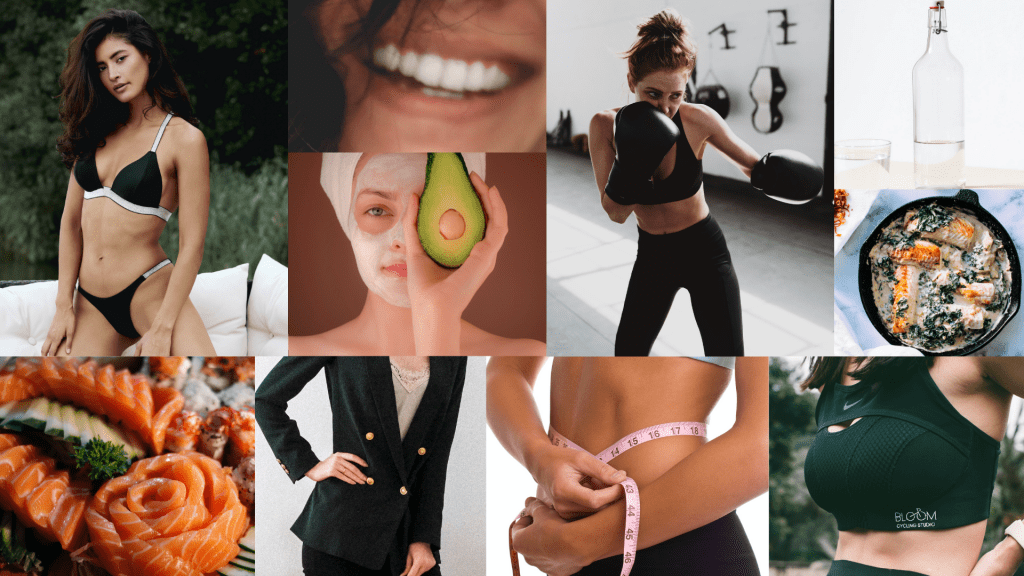 You can read on my tips on how to create an effective vision board here.
4. Make healthier versions of your favourite food
Remember at the beginning of the post I said that weight loss is about getting healthier, and, consequently, about making conscious and consistent change in daily habits?
Well, why not make a healthier version of your favourite dish? 🍲
Instead of going to eat out and/or of ordering fast food, what if you made a homemade – and consciously healthier – version of the foods you love.
I love PIZZA. Love it. I am not ashamed one bit to say that it is one of my all-time-favourite-foods. In losing weight I didn't want to give up pizza because keeping weight off involves healthy eating habits you actually can stick with. 🍕
So, I found my solution. I made my own homemade pizza and I made it Keto-friendly! Why? Because changing the regular flour dough to almond flour dough is much, much healthier as it substitutes carbs with healthy fat! I also swapped canola (vegetable) oil for coconut oil.
And guess what, that low-carb Keto pizza is absolutely delicious. 🤤
The best part? I have the recipe right here on my website for you to try it out!
5. Follow people you aspire to embody
When I say to follow people you aspire to embody, I mean it in the most helpful and healthy way. If following people – with the desired life-style you want – gets you down, please, please, please unfollow or mute them. Remove yourself from feelings that get you down.
Remember the goal is to be motivated and to enjoy your journey!
Another thing to remember is that everyone's life is utterly different even though we share some similarities. Don't try to actually copy and 100% embody everything someone else is doing.
Use other people's journey as motivation and as a starting point for yourself as you tweak and discover the different components that make your journey wholly yours.
I like to look at other people that inspire me to live healthier and happier whether by the way they eat, think, and workout. It is a reminder to me that I can have and build the life I want because it is in my power.
6. Watch vlogs
On YouTube, there are so many weight loss vlogs. People that are showing, vlogging, explaining what they eat in a day or in a week in order to lose weight. How they workout in order to get leaner and how they develop fat burning muscles.
There are so many of these personal vlogs and videos that can help inspire you and give you different ideas and approach to your own weight loss journey.
7. Read posts
Similarly, you can read many different blog posts to see how other people lose weight, what they eat, and how they inspired in their own weight loss journey.
Wait a minute… Not to be too meta but you are doing this right now. 😯
Not that I've got you, you can read my blog post series on What I Eat in a Week to Lose 1kg a Week in 2021:
For now I discontinued the series because it took too much time to write everything down and take all the pictures. But, I generally eat the same foods continuously and I've still been averaging losing 1kg a week!
8. Read personal development books
Why read personal development books? Because they are empowering!
I truly believe that they guide you through your negative feelings and encourage you to develop better, healthier habits.
Hence, they not only inspire you but they also give you tricks to think more positively and creatively about your life in general.
Here are 4 of my many favourite personal development books to help you get started:
9. Look at Before and After photos
My next way to stay inspired in order to lose weight involves looking at other people's 'Before' and 'After' photos. Not only is it inspiring to me and revealing of the capability of the human mind and will, but it also fills me with pure joy.
A lot of these 'Before' and 'After' photos, I can tell that the person is much happier and more confident in their bodies in the After segment. Generally, it can be shown in their face. In the way that they smile. And even in their posture and in the clothes they wear.
There is a noticeable glow surrounding someone who's been on an arduous yet rewarding journey.
And the feeling is contagious.
10. Take pictures
Similarly, I would recommend taking your own "Before" and "After" pictures.
When you first start – or if you hit a rough spot for a few weeks -, you won't always be visually aware (although you can be physically aware in how your body feels) of the progress you are doing.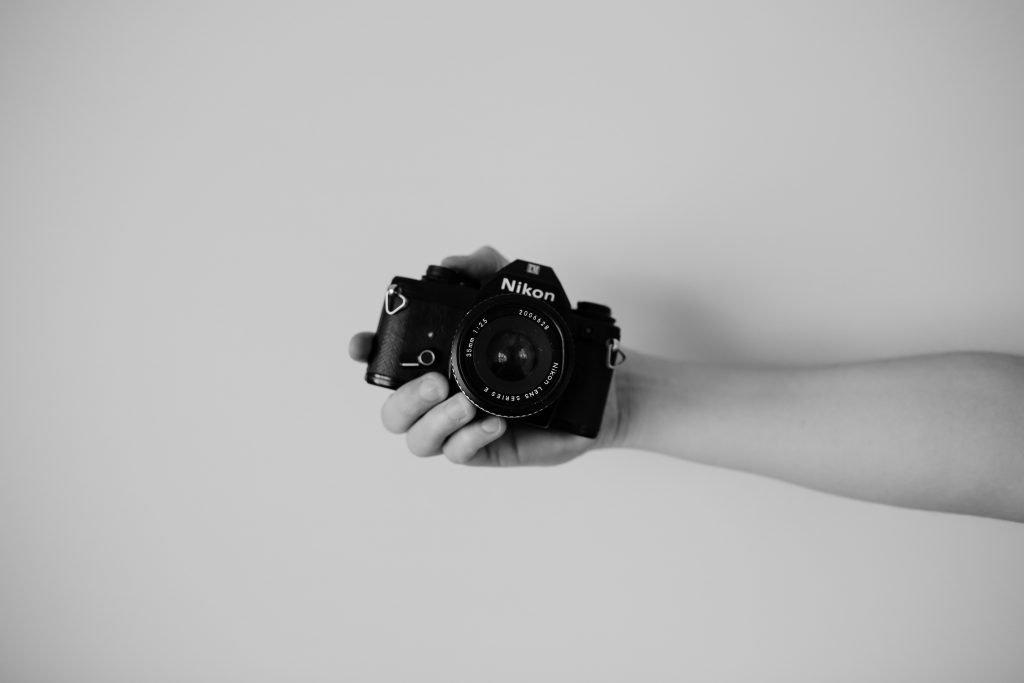 11. Reframe your thoughts
This next tip is quite important. Sometimes we need to reframe our thoughts because subtly – or not so subtly – our thoughts are self-sabotaging.
I know that I was guilty of this in the past. I would think negatively about losing weight, eating healthy, and working out. Essentially, it was myself that I was thinking negatively of and as a result, it impacted my mindset concerning the different facets of being healthier.
You kind of need to act the part to get the part if you know what I'm saying. When I reframed my thoughts positively, my actions, in turn, were positive. I felt less resistant and bitter and I became more inspired in my journey.
If you want to know more about how to reframe your thoughts to attract positive changes in your life, I recently wrote a post on the topic, and, you can read it here.
12. Meditate at night
Along the same pattern of reframing your thoughts, this can be accentuated through the practice of mindfulness. When you meditate at night, you have time to gather your thoughts and truly prioritize the desires of your heart.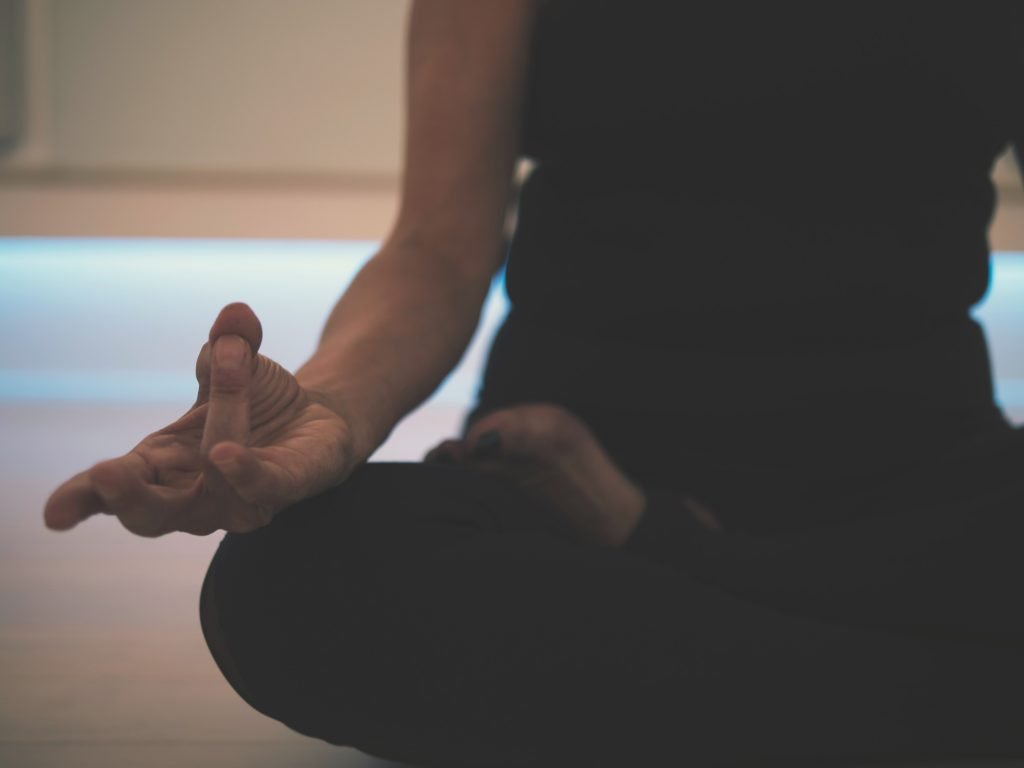 You allow yourself to visualize the life you envision for yourself. Doing so, will help set you on the right path. When you wake up the next day, you are mentally closer to your goal.
13. Track your progress
I don't know how this tip goes amiss but I am here to tell you that tracking your progress will greatly help you achieve your goals. It will give you purpose, accountability, as well as agency in your day to day life.
Tracking = Results
When people want changes with their finances, they start a budget and they track all of their spendings and earnings.
Evidently, if you want to see changes in your weight, you can considering tracking your calories, and/or macronutrients, and your weight on the scale.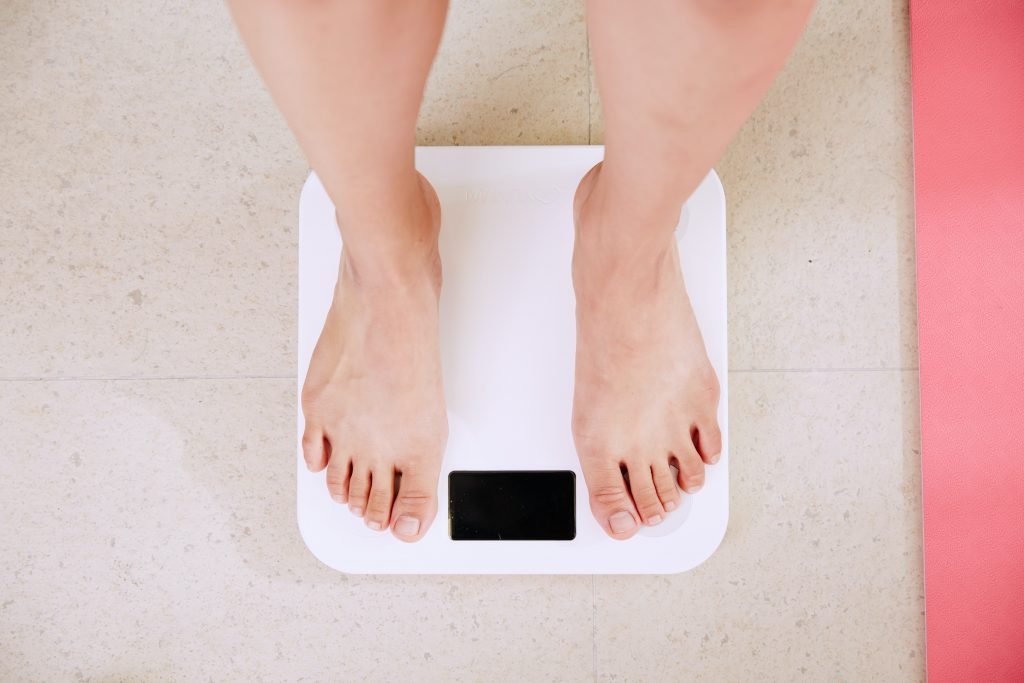 Tracking inspires you to do better because you visually can see the choices you make and the progress you've made. There is no room for big surprises at the end of the month when you gain rather than lose weight because the recorded proof is starring right at you.
If you want to learn more about the benefits of tracking, I would highly recommend a book called "The Compound Effect" by Darren Hardy.
14. Constantly manifest positive affirmations
And so speaking of compounding, we should try to compound positive thoughts daily. By constantly manifesting positive affirmations, you will find yourself instinctively doing them.
Some positive affirmations to manifest surrounding weigh loss, include, (but are not limited to):
"I love my body."
"I believe in myself."
"I am strong."
"I will lose weight."
"I will eat healthy."
"I will drink more water."
"I will exercise."
"I will go on a walk."
When I was younger, my mom would tell me to go look into a mirror and call myself beautiful every single day until I believed it! She really was onto something… changing my mind and making me believe in myself.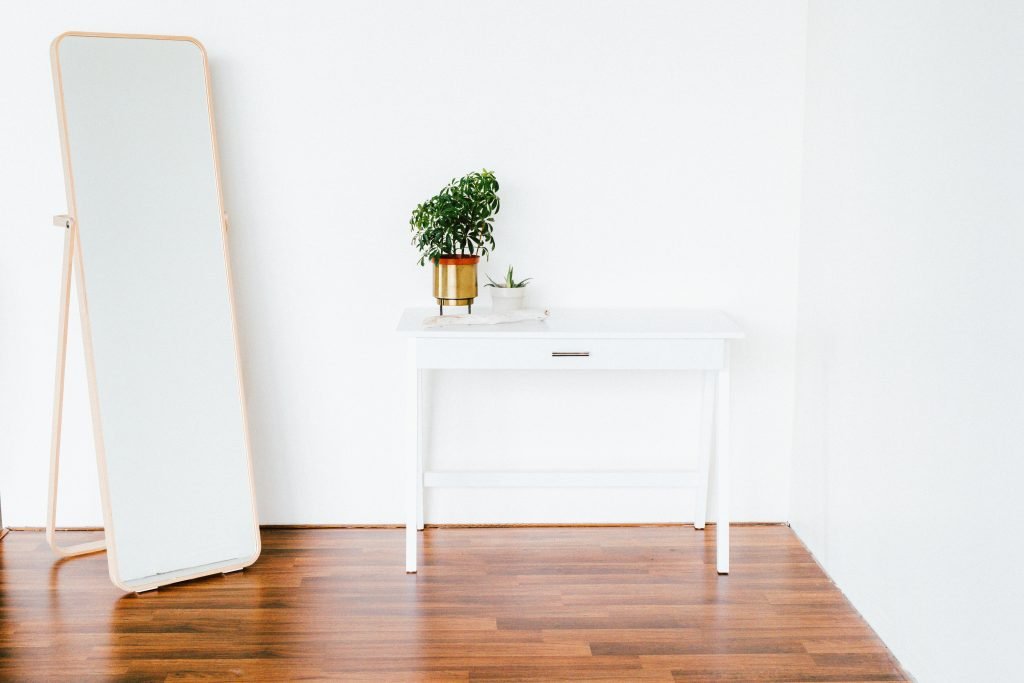 Thanks mom, you're the real MVP!
15. Buy gym gear and/or workout clothes
Buying gym gear and/or workout clothes can spark some inspiration in your journey. I think this is not a farfetched idea since buying and wearing clothes we like, appeals to our desire to wear and fill the function the clothes are designated for.
However, I don't personally do this often because my intent is on losing weight and not collecting more clothes. But to play the devil's advocate – you do need those leggings or that tank top to wear while you drop those pounds at the gym. 😇
I personally enjoy investing in myself and in my health whether it be books (as we've established), clothes, or gear.
A few years ago, I bought an Everlast punching bag. Not only was it an affordable purchase – since it contribute to my own home gym – but it has served me so much throughout the years. It gets me so excited to train and to workout in general.
By far, one of the best investments I've ever made! 🥊
---
I hope you enjoyed this post! Let me know what other weight loss posts you would like to see in the future! Additionally, drop a comment below telling me the ways that keep you inspired in your weight loss journey!
Like the post? Save Pin for later!